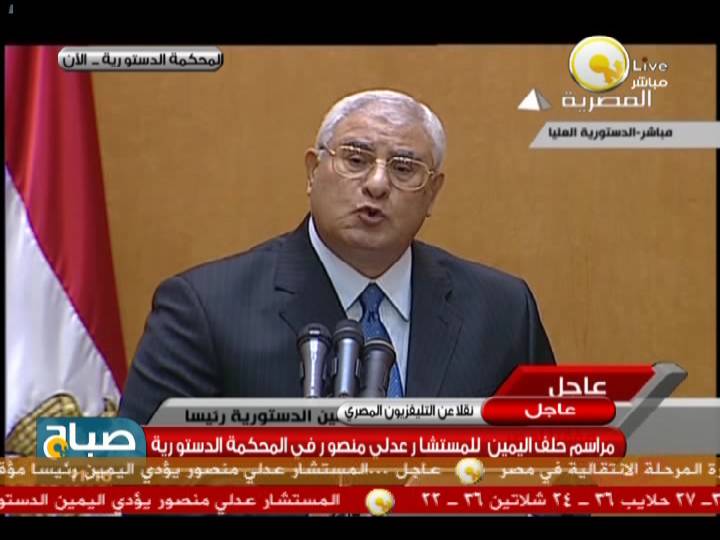 Two Jihadi leaders filed a lawsuit on Monday before the Administrative Court requesting to invalidate the decisions made by Interim President Adly Mansour.
In their lawsuit, Magdy Salem and Nezar Ghorab demand a cancellation of all the consequences of Mansour's decisions, claiming that he has arrived to his post in an "illegitimate" way.
"The lawsuit demands the invalidation of all resolutions issued by the interim president of the republic, because they are not based on the only legal way to take over the presidency, which requires him to swear the oath before the President of the Supreme Constitutional Court," Ghorab told Egypt Independent.
Ghorab explained: "Legal tradition requires that the President is sworn in before the President of the Constitutional Court, which did not happen. Mansour was sworn in before the general assembly of the Constitutional Court judges, which is not acceptable and has no legal basis."
For these reasons, Ghorab considers that Mansour's presidency was gained in an invalid way and necessitates the invalidation of his position.
Both Magdy Salem and Nezar Ghorab have been tried in the case of the jihadi-oriented organization, Talae al-Fatah. Ghorab was acquitted, but Salem has spent more than twenty years in prison.
In the Talae al-Fatah case, a group of Islamists who had returned from Afghanistan after training in Egypt faced charges of reviving the organization in Egypt to carry out terrorist operations.
Egyptian security had made strikes against the jihadi organization in Egypt after more than 300 members of Talae al-Fatah were arrested in 1993 for planning to commit terrorist acts.
This came after the organization's failed terrorist operations at the time, which included the attempted assassination of former Prime Minister Atef Sedqy, former Interior Minister Hassan al-Alfy and various security leaders, according to security agencies at that time.