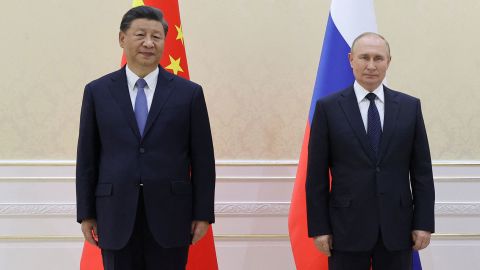 When Chinese leader Xi Jinping and Russian President Vladimir Putin sit down with other Asian leaders at a summit in Central Asia Friday, they will seek to present a united front to counterbalance the United States and its allies.
Since Thursday, leaders from the grouping, including India, Pakistan, Iran and four Central Asian countries, have convened in the city of Samarkand in Uzbekistan, which has seen a flurry of high-level talks, including the first face-to-face meeting between Xi and Putin since the invasion.
Putin's appearance alongside Xi at the high-profile summit came just days after Russian forces suffered a series of major defeats on the Ukrainian battlefield.
Moscow's invasion has left it diplomatically isolated, and its economy severely weakened by a raft of punishing Western sanctions.
In recent months, China has offered Russia tacit support and stepped up economic assistance to its neighbor, boosting bilateral trade to a record high. But as the conflict drags on into winter, analysts question how far Xi will be prepared to go in continuing to back Putin — and at what cost.
"The economic situation in Russia is deteriorating, and that gives China an upper hand in the relationship," said Alexander Gabuev, a senior fellow at the Carnegie Endowment for International Peace.
"Ties between Moscow and Beijing have been asymmetric before, when Russia was a needier partner, but now this is an asymmetry on steroids where China has the commanding position, and definitely will be not shy to use it going forward."
In public, China has pledged to deepen ties with Russia. An official Chinese readout of the Xi-Putin meeting Thursday made no mention of Ukraine. Instead, it quoted Xi as saying that China would "work with Russia to extend strong mutual support on issues concerning each other's core interests" and "play a leading role in injecting stability and positive energy into a world of change and disorder."
For his part, Putin highlighted Moscow's value to Beijing — namely to join hands in counterbalancing the West and creating what he calls "a just, democratic and multipolar world order."