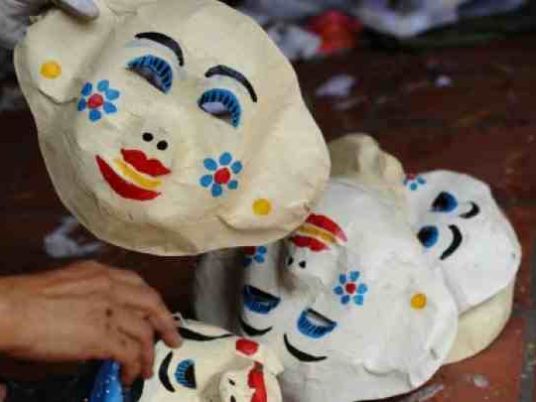 Vu Thi Thoan's family has been making papier mache masks, part of traditional Vietnamese celebrations for the mid-autumn festival, for over four decades. But cheap Chinese toys are threatening her business.
The mid-autumn festival, which falls on Sunday with the full moon, is Vietnam's equivalent of a harvest festival.
It is typically marked by the gifting and consumption of moon-cakes — dense, sweet delicacies — the performance of colourful lion dances, and the giving of presents, including traditional masks, to children.
Large papier mache lion head masks are used in the lion dances, and smaller versions, depicting characters such as Ong Dia, a folk spirit, are given to children to play with around the time of the festivities.
"My family has made masks for over 40 years," said Thoan, 55, who lives in a village in Hung Yen province, where once, nearly all local families used to make masks.
Now, just three mask-making families remain.
Each mask is sold wholesale for around 15,000 Vietnam Dong (80 US cents).
Thoan said she and her family earn a good income, and that new imported toys were not a problem at the moment.
"I don't worry about Chinese imports," she said.
Her masks are "a traditional toy, and sales increase every year".
"Vietnamese children love them," she told AFP.
But in recent years, Hanoi's Hang Ma street — the epicentre of the mid-autumn celebrations, where families go to buy all their mid-autumn paraphernalia — has been inundated with cheap Chinese toys.
And experts are concerned about the impact this is having on the festival — the most important holiday for children in the communist country.
Vo Quang Trong, the director of the Vietnamese Ethnology Museum in Hanoi, said it was important for people to appreciate the craftmanship and heritage of the original papier mache masks.
"Chinese plastic masks… are industrial production for commercial purposes," he said. "Masks should be made of papier mache — it's cheap, popular, easy to make."
Both the museum and Vietnam's Fine Arts University have this year organised events to try and encourage local children to learn how to make papier mache masks to keep the traditions alive.
But on Hang Ma, traditional papier mache masks are now vastly outnumbered by modern imported masks — often of popular Disney characters.
Dang Thi Dung, who was out shopping Thursday, said she was concerned about buying Chinese imports — but her kids loved them.
"They just want the Superman mask!" the 52-year-old said.