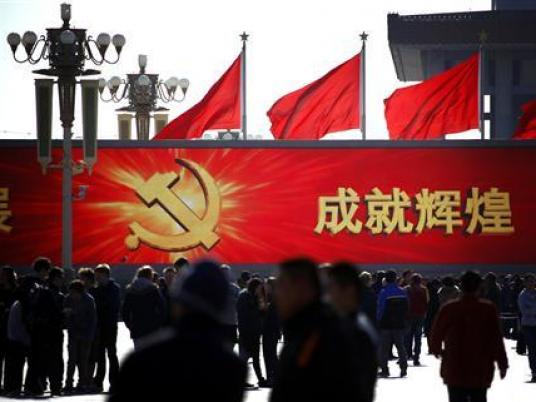 Chinese Premier Li Keqiang told Japanese Prime Minister Shinzo Abe on Friday that his country should stop interfering and hyping up the South China Sea issue, as the dispute took center stage at a key regional summit in Mongolia.
China has refused to recognize Tuesday's ruling by an arbitration court in The Hague invalidating China's vast claims in the South China Sea and did not take part in the proceedings. It has reacted angrily to calls by Western countries and Japan for the decision to be adhered to.
Meeting in the Mongolian capital Ulaanbaatar, Li told Abe that China's stance on the South China Sea was completely in line with international law, state news agency Xinhua reported.
"Japan is not a state directly involved in the South China Sea issue, and thus should exercise caution in its own words and deeds, and stop hyping up and interfering", Li said, according to Xinhua.
Japan's Kyodo news agency said Abe told Li that a rules-based international order must be respected. The agency also said Abe and Vietnamese Prime Minister Nguyen Xuan Phuc had agreed the ruling must be observed.
Japanese Foreign Ministry spokesman Yasuhisa Kawamura said Abe "reiterated the fundamental positions regarding the South China Sea" in his meeting with Li.
"The situation of the South China Sea is the concern of the international community. The tribunal award of 12 July is final and legally binding on the parties to the dispute," Kawamura told reporters.
China claims most of the South China Sea, through which more than $5 trillion of trade moves annually. Brunei, Malaysia, the Philippines, Taiwan and Vietnam have rival claims.
Speaking at the meeting of Asian and European officials in Mongolia, Philippine Foreign Minister Perfecto Yasay said Manila "strongly affirms its respect for the milestone decision" while reiterating his call for "restraint and sobriety".
China's Foreign Ministry on Friday said Beijing's position on the case had the support of Laos, the current chair of the Association of Southeast Asian Nations (ASEAN), a regional bloc long dogged by discord over how to deal with China's maritime assertiveness.
The verdict was discussed on Thursday between Li and Lao Prime Minister Thongloun Sisoulith ahead a regional summit in Mongolia.
"Thongloun said that Laos supports China's position, and is willing to work with China to maintain peace and stability in the South China Sea region," the ministry said in a statement.
The statement did not elaborate. Laos' foreign ministry did not responded to Reuters' request for comment and its state media made no mention of Thongloun's comments to Li.
Land-locked Laos, which is boosting economic ties with China, will be hosting a security meeting later this month at which the South China Sea is expected to dominate. ASEAN has not issued a statement about the ruling and its members have not said why.
China's Foreign Ministry later said Cambodian Prime Minister Hun Sen had told Li that Cambodia would uphold a "fair and objective stance" on the South China Sea issue and work to maintain friendly China-ASEAN relations, according to a statement.
Asked about Cambodia's position, Foreign Affairs Minister Prak Sokhonn told Reuters: "We are not involved in this arbitration case and just wish to stand by our policy of neutrality."
'Crowning glory'
The court decision invalidating China's claims was a "crowning glory" that renews faith in international law, the Philippines' top lawyer said on Friday, in Manila's strongest comment yet on its sweeping win.
The remarks by Solicitor General Jose Calida follow two days of carefully calibrated responses from the Philippines and are almost certain to irritate China further.
Manila has so far been keen not to rock the boat in the hope of starting dialogue toward Beijing allowing it to exercise what the Permanent Court of Arbitration in The Hague ruled were its sovereign maritime rights.
"It confirms that no one state can claim virtually an entire sea. The award is a historic win not only for the Philippines … it renews humanity's faith in a rules based global order," Calida told a forum.
"The award opens a horizon of possibilities for all stakeholders. The award is a crowning glory of international law."
China has previously said it has widespread support for its rejection of the case but many countries have stuck to cautious comments about resolving disputes peacefully and respecting international laws.
Philippine President Rodrigo Duterte ended his unusual silence at a private function late on Thursday and said he wanted dialogue with China and was considering sending former President Fidel Ramos to Beijing to get the ball rolling.
"War is not an option," he said. "So, what is the other side? – Peaceful talk."
Immediately after the ruling, the normally brash and outspoken Duterte privately told his ministers to be magnanimous and not to pique Beijing, according to one minister.
But the cautious tone appears to be changing in the Philippines, where there are signs of public disgruntlement with the subdued government response to a decision that most of the country was celebrating.
The United States, a key Philippines' ally, is urging Asian nations not to move aggressively to capitalize on the court ruling, according to U.S. administration officials.
The chief of its naval operations, Admiral John Richardson, will discuss the South China Sea among other issues when he meets China's navy commander, Admiral Wu Shengli, from Sunday on a three-day trip to "improve mutual understanding", according to a U.S. Navy statement.
Chinese state media on Friday reported again that China aims to launch a series of offshore nuclear power platforms to promote development in the South China Sea. Experts said little progress had been made on the plan, which would likely stoke further tensions.