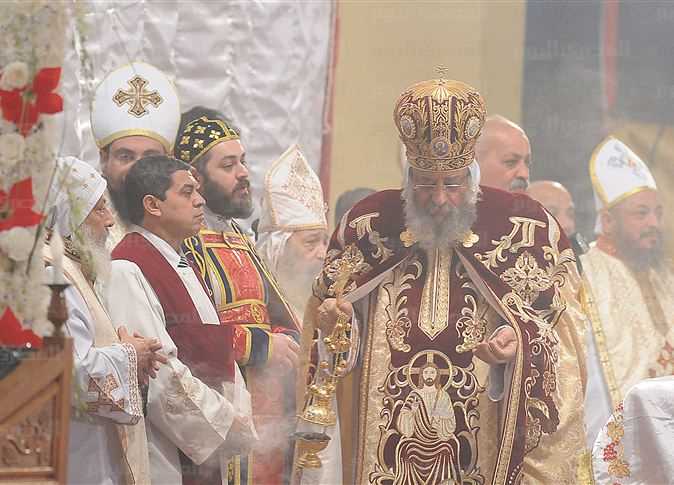 The Saint Mark Cathedral in Abbasiya celebrated Coptic Christmas on Tuesday as Pope Tawadros II of Alexandria welcomed hundreds of celebrating Christians.
The pope distributed sweets to children inside one of the halls specifically prepared for that, and took photos with the attendees in the presence of the church choir who chanted Christmas carols and melodies amid great joy.
Interior Minister Mahmoud Tawfiq visited Pope Tawadros II to congratulate him and all Christians, expressing sincere congratulations from the behalf of the entire police force as well. He praised the Egyptian church's role in spreading tolerance across all the people of the nation, as Egyptian history shows that the church has always been confronting efforts to divide Egyptians.
Pope Tawadros II praised the police's efforts and sacrifices in facing the challenges of the current era. He stressed on the people's support towards the security services as they carried out tasks to ensure the nation's security and stability.
The speaker of the House of Representatives Ali Abdel-Aal, headed a delegation of MPs to Abbasiya cathedral to offer congratulations, saying: "You, Your Holiness, are a patriotic Egyptian figure that receives the satisfaction and love of all the people."
Abdel-Aal added that any country should be reassured if it has a strong army that continues to modernize its military capabilities and combat training, alongside a national unity guarded by wise people who believe in this country, allowing Egypt to remain a source of good for the entire region.
Edited translation from Al-Masry Al-Youm