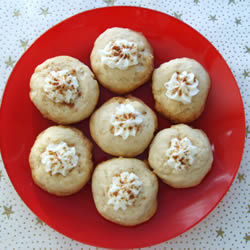 Add a personal touch to your Christmas Eve party by making and taking your own little cookies. Alcoholic filling optional!
3/4 cup butter, softened
1/2 cup white sugar
1/4 cup packed brown sugar
1 egg
1/2 teaspoon vanilla extract
2 cups all-purpose flour
1/4 teaspoon salt
1/4 cup butter
1 cup confectioners' sugar
1 tablespoon rum
1 pinch ground nutmeg
Directions:
Preheat your oven to 175 degrees centigrade.
In a medium bowl, mix 3/4 cup butter, white sugar, and brown sugar until creamy.
Beat in egg and vanilla.
Combine flour and salt in another bowl; stir into the creamed mixture by hand to form a soft dough.
Roll dough into 3cm balls, and place balls 5cm apart on an un-greased cookie sheet. When the dough balls are ready, press your thumb or finger into each one to make a little place to put the filling.
Bake for 12 minutes and cool completely.
While cookies cool, mix 1/4 cup butter, confectioners' sugar, and rum.
Spoon rounded teaspoonfuls of filling onto cookies.
Sprinkle with nutmeg and let stand until set, before storing in an airtight container.