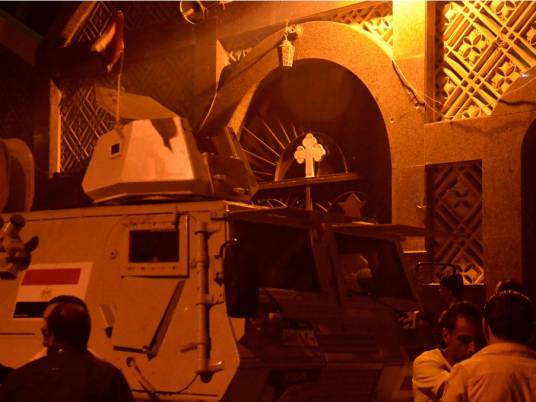 Several church officials are drawing a relation between the Warraq church shooting and other political incidents ongoing since ouster of deposed President Mohamed Morsy, suspecting the Muslim Brotherhood could be behind the incident.
Unknown elements attacked Coptic Christians in front of a church in Warraq while a wedding party was taking place, leaving four Copts dead, other nine injures. Security services have not yet arrested the perpetrators.
Priest Boules Eweida, ecclesiastical law professor, said fingers point to the Muslim Brotherhood, which might have been involved in the incident, after what he calls their failure to provoke the Copts by assaulting Egyptian churches, which have now pressured them to remount their attacks.
The shooting is not an attack on Copts, Eweida stressed to Egypt Independent, but all of Egypt. "They don't seek progress for Egypt but rather want to turn the clock backwards, which will not happen," he said.
It seems Egypt has grown accustomed to attacks on religious institutions, such as against the church or even when Al-Azhar is attacked. The Brotherhood supporters attacked Al-Azhar during their protests in Azhar University on the same day the church was attacked.
Abdel Massieh Baseet, of the archaeological church in Mosturud, said there is a political trend in Egypt that wants to spread chaos in Egypt to make it appear as unstable.
The incidents, according to Baseet, is against industry and investments. Hence targeting Copts has two reasons: first of which is retribution for their stance supporting 30 June revolution and the political change. The second reason is destabilizing Egypt through killing Copts.
In the meantime, they have also ruined Copts' properties especially churches, attacking more than 70 churches.
Attackers want to make the state appear as reluctant in protecting Copts so the Coptic Diaspora and the international society take actions to spread chaos, Baseet argues.
Gamal Assad, the Coptic intellectual, said the Warraq church attack recalls similar scene of targeting Copts by police and extremists in the 1980s, when extremists targeted Copts, embarrassing the country in front of the international society. The same case has taken place through consecutive attacks against Copts with the help of police.
The deputy supreme guide and Rabaa al-Adaweya platform, according to Assad, threatened to spread chaos if case Morsy was not reinstated, which is currently happening.
Assad added that attacks against Copts cannot be blamed on one faction, but the whole Islamist trend. Attacks that happened after dispersing Rabaa al-Adaweya sit-ins on 14 and 15 August, he says, confirm that all Islamists are involved in the issue.
The Brotherhood, anyone affiliated to them or sympathize with their deeds are involved, he added, referring also to those who wrote sectarian words on walls of churches as the slightest forms of oppression against Copts.
Meanwhile, the National Alliance Supporting Legitimacy (NASL), affiliated to the Muslim Brotherhood, highlighted sanctity of worshipping places as well as all public and private establishments.
The alliance blamed the incident on Interior Ministry for not being ready to achieve security and being occupied with peaceful protesters and students on campus.
The Muslim Brotherhood, however, has yet to condemn the shooting, despite condemning frequently violence against churches before 30 June.