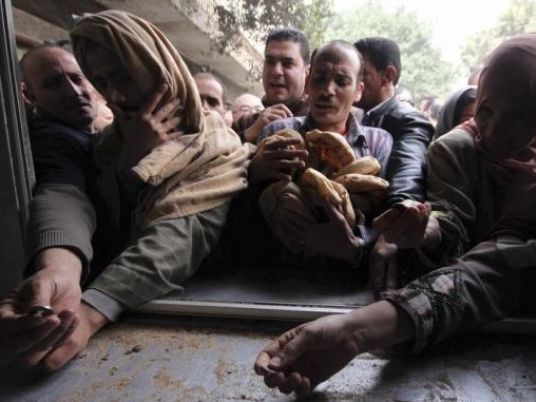 The crisis in government-subsidized bread resumed across several governorates on Sunday, as hundreds of citizens lined up outside the bakeries.
In Daqahliya, citizens waited for hours since the morning to get their share of subsidized bread.
Ibrahim al-Khayyat, deputy supply minister of Daqahliya denied there were any shortages, however, saying: "The crisis is over but the citizens are the ones creating a crisis (out of nothing) with the lines outside the bakeries."
In Sharqiya, security services arrested a baker for illegally taking advantage of 19 tons of subsidized wheat. They seized 169 sacks of subsidized wheat.
In Qalyubia, Governor Mahmoud Ashmawy denied there was a crisis with the distribution of bread among citizens at his governorate, saying that bakeries are working regularly.
Meanwhile, Parliamentary Affairs Minister Omar Marawan said the government's decision to reconsider the shares allocated for the gold cards has saved more than LE1.75 billion annually; adding that the share was representing more than the real need in some areas.
He added that the reduction of the share was applied only on the excess share of bread, and not on the one allocated to holders of the smart ration cards.
Edited translation from Al-Masry Al-Youm