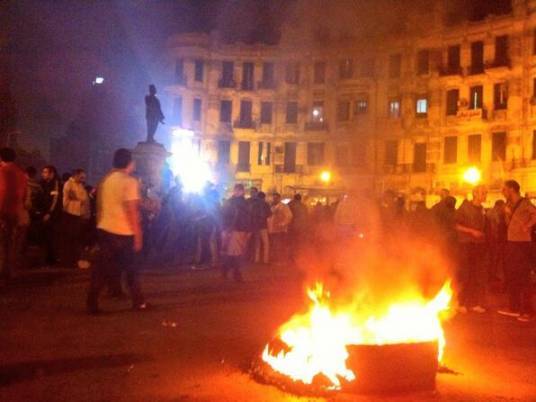 Hit-and-run clashes broke out on Tuesday evening between protesters who are against the newly passed protest law and security forces in Talat Harb Square downtown.
Liberal protesters chanted anti-military slogans including "the people demand overthrowing the regime" and "the Interior Ministry are thugs."
Police men fired tear gas at protesters in Talaat Harb Square and eventually dispersed the protest demanding the release of victims of the afternoon's arrest of over 30 activists who were also protesting against military trials for civilians and the new protest law.
More than 50 people were arrested, according to the Egyptian Center for Economic Rights.
Many were taken to a police station in New Cairo, according to activists.
Co-founder of the "No Military Trials" rights group, Mona Seif, was recently released, activists tweeted.
"No for Military Trials for Civilians" movement issued a statement on Tuesday condemning the violent dispersal of its protest in front of the Parliament where police rounded up "more than 47 demonstrators, including 9 members of the movement" the statement said.
The movement held the Interior Ministry the responsibe for the safety of the detained.
Meanwhile, security forces in Aswan arrested five members from Tamrod movement during a protest organized against yesterday's Shura council events and the protest law. The detained were escorted to the security directorate.