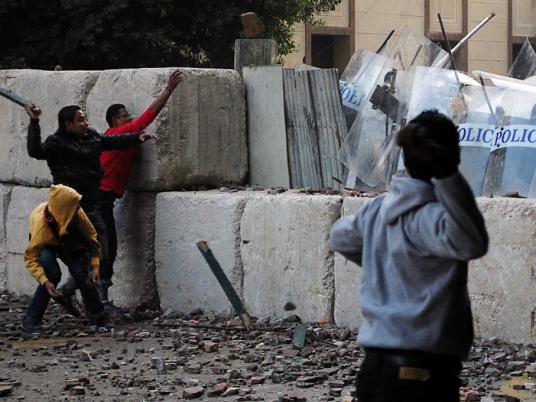 The death toll in clashes between army forces and protesters near Egypt's cabinet building reached 12 early Tuesday, the Health Ministry said.
The news agency Reuters, however, quoted ministry sources Tuesday as saying the death toll was 13, while activists said at least 14 had died.
The violence, which broke out Friday, has entered its fifth day. A state of cautious calm prevailed in Tahrir Square on Tuesday after the violent clashes.
Security forces advanced toward the protesters early Tuesday before throwing tear gas canisters and using live ammunition, which led to new casualties, Al-Masry Al-Youm reported.
The move forced protesters to retreat to the Egyptian Museum and Talaat Harb Square in downtown Cairo, where a number of citizens said they had been hearing bangs echoing since 5 am.
By daylight, security forces retreated again to their earlier location behind concrete barriers erected at the corner of the Sheikh Rihan and Qasr al-Aini streets.
Some protesters managed to break down part of the barrier. They hurled stones and Molotov cocktails at security forces, which pelted them back, state-run news agency MENA said.
Dozens of demonstrators had arrived late Monday to Tahrir Square coming from downtown Cairo to protest the violence near the Mugamma government building. They chanted slogans like "Down with military rule" and "The people demand the fall of the field marshal."
UN Secretary General Ban Ki-moon condemned the "excessive" force used against the demonstrations, which has widened a rift between Egyptians over the role of the army and cast a shadow over the country's first free elections in decades.
Human rights watchdog Amnesty International called on arms suppliers to stop sending small arms and ammunition to Egypt's military and security forces in the wake of the violent crackdown on protesters.
Reporters Without Borders said the army's "systematic use of violence against media personnel" was blocking access to information in and around the square.
An army general told a news conference on Monday that "evil forces" wanted to sow chaos and soldiers had shown "self-restraint" despite provocation by those trying to burn down buildings and create discord between the army and the people.
Soldiers have been filmed beating protesters with batons even after they had fallen to the ground.
The violence broke out just after the second stage of parliamentary elections, which began in late November. The military has pledged to hand over power to an elected president by July.
US Secretary of State Hillary Clinton said she was "deeply concerned" about the violence and urged the security forces "to respect and protect the universal rights of all Egyptians." She also called on protesters "to refrain from acts of violence."