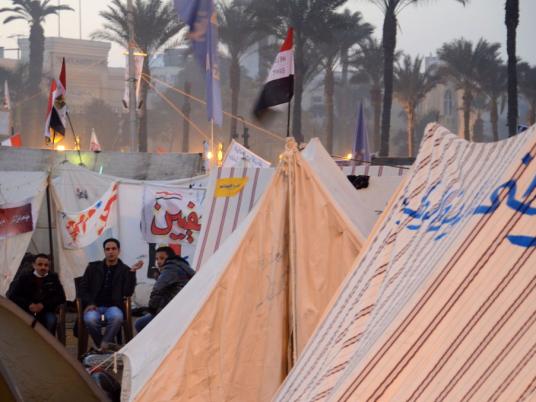 Scores of protesters held a march in Tahrir Square on Monday to denounce alleged rigging of the constitutional referendum in favor of President Mohamed Morsy and the Muslim Brotherhood.
Scuffles erupted between them and supporters of Morsy in the vicinity of the Egyptian Museum, leading to some injuries. Museum security did not intervene.
Passersby tried to persuade the protesters to stay away from the square to avoid further clashes, but they said they would not leave unless Morsy is toppled.
More tents were erected in the square, but the Constitution, Wafd and Popular Current parties removed theirs.
Protesters claimed they saw "Pakistanis with long beards" meeting in the nearby Omar Makram Mosque.
The square turned into a marketplace, as street vendors displayed their wares.
Members of the Arab National Youth Organization Supporting Gaza raised banners, calling on the Egyptian people and President Morsy to stand by the Palestinian cause.
April 6 Youth Movement member Ahmed Saeed said a march would head from Tahrir Square to the presidential palace on Tuesday to denounce the final outcome of the referendum, while a large number of protesters said they would remain in the square until 25 January to commemorate the revolution and demand retribution for its martyrs.
Edited translation from Al-Masry Al-Youm