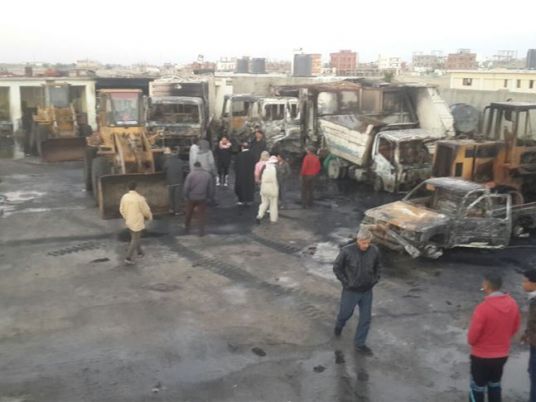 Armed assailants affiliated with the Islamic State attacked the office of a cleaning company in Arish, North Sinai, early Sunday, setting the facility on fire, according to security sources.
Eyewitnesses said the attackers evacuated all 125 employees from their dormitories before setting it ablaze, causing at least 40 vehicles owned by the authority to catch fire and a string of explosions in the area. One worker said he and other colleagues were not wounded, but revealed that the assailants, after checking the employees' IDs, threatened them with death if they cooperate with security again.
Ambulances and civil defense squads arrived quickly to the scene of the attack.
Security sources said there had been more than 15 masked attackers involved, adding that they were probably seeking employees believed to have been informing authorities of explosives planted by the group.
Initial losses from the attack were estimated to be LE22 million, according to the sources.
The restive Sinai Peninsula has been a stage for battles between Egyptian security and the Islamic State-linked Sinai Province, who have killed hundreds of troops since the ouster of the Muslim Brotherhood's government in 2013.
Edited translation from Al-Masry Al-Youm