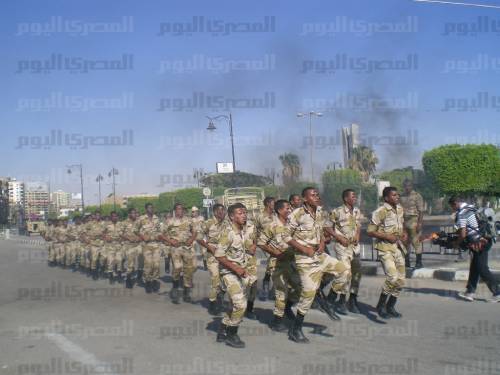 Egyptian troops Tuesday chanted, marched, and trained in the streets of the Red Sea city of Suez, at the mouth of the Suez Canal, images from Al Jazeera Egypt's news channel showed.
Major General Osama Roshdie Askar, commander of the Third Field Army, oversaw the
commandos'
training to face thugs and outlaws, and secure protesters of different political affiliations.
Askar also oversaw the Suez Canal and the forces securing the area.
The Third Field Army distributed Tuesday a statement to citizens thanking them for cooperating with the army's duty to impose security.
The statement added that the army appreciates
citizens'
endeavors to keep the demonstrations peaceful and secure.
The army remains neutral toward different segments of the population, and they stressed the need to keep the protests peaceful.
The statement warned that the army would deal firmly with outlaws.