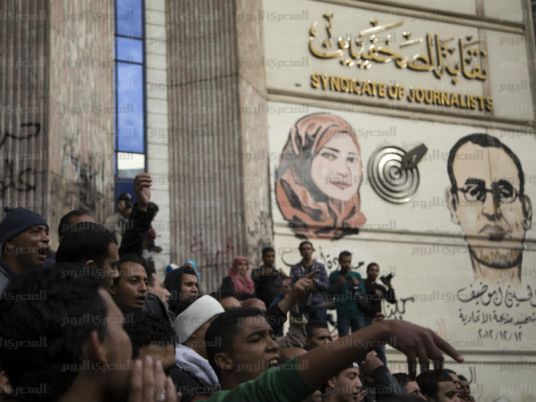 A group of journalists planning to strike has decided to form a press committee to effectively communicate a unified message to media following the beginning of the strike on June 10.
The committee includes the following journalists: Hesham Fouad, abul Maaty al-Sandoby, Sara Gamal, Mohamed Fathy Qonsowah, Riham Ahmed, Khaled Ammar, Riham al-Laboudy, Mohamed Hamdy, Safaa abdel Razeq, Mostafa al-Aswany, Rasha Azab, Eman Ouf, Hazem al-Mallah, Ahmed abul Qassem, Amira al-Fiqqy and Hazem Hosny.
During the meeting, the journalists called for improving the social and economic conditions of journalists and slammed the low salaries as well as the increasing layoffs.
They also decided to form a delegation of journalists for solidarity with the striking journalists of Egyptian daily Al-Shorouk newspaper and to visit their striking colleagues of Shorouk newspaper.
Journalists of Shorouk went on a partial strike for two hours daily starting Monday until Thursday against delayed salaries and layoffs.
The journalists will reconvene next Monday to tackle the upcoming steps.
Meanwhile, Khaled al-Balshy, member of the Journalists Syndicate board and rapporteur of Freedoms Committee, highlighted necessity of journalists' participation in the ongoing amendment of the journalistic legislations. He added that June 10 will see a symbolic sit-in at the syndicate to voice the journalists demands and violations they are exposed to either from the regime or the institutions they work at.
Edited translation from Al-Masry Al-Youm