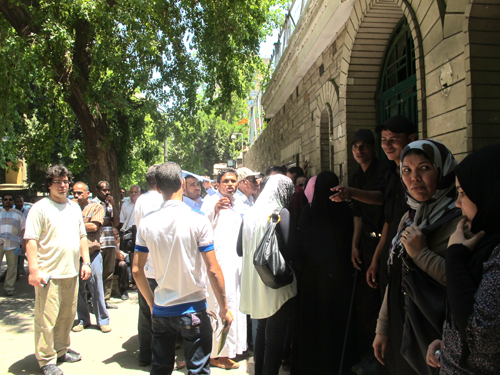 The story of the Libyan diaspora spreads back over several decades. Since Muammar Qadhafi's 1969 military coup, thousands of Libyans have been fleeing the despotism of his demagoguery and authoritarian rule. While many Libyans sought refuge in the distant lands of Europe, North America, and Australia, a large portion migrated to neighboring countries such as Tunisia and Egypt.
"The memory of fleeing Libya still feels as vivid as the day my first child was born," says Lamaan Queri, a 73-year-old Libyan woman who fled to Egypt with her family decades ago. "At that time, Qadhafi's forces had taken almost everything from me –– my husband, my son, our houses. Our lives were in danger and we had no option but to seek political refuge in Egypt."
On 21 February 1973, Queri's husband Salah Bouseir, then the Libyan foreign minister, was on board Libyan Arab Airlines Flight 114 from Benghazi to Cairo. According to the Aviation Safety Network website –– a web listing chronicling of all major airline accidents, incidents, and hijackings –– LAA Flight 114 strayed off course during a heavy sandstorm causing it to bypass Cairo into the Sinai region, where it was shot down by Israeli fighter jets.
The Boeing 727 aircraft was carrying 113 passengers and crew, including famed Egyptian TV presenter Salwa Hegazi. More than 100 people were killed, including both Hegazi and Bouseir. According to Queri, the plane crash was entirely overlooked by the Libyan government –– there was minimal to no media coverage of the incident, and the families of the victims have yet to receive even a suggestion of retribution.
"I was supposed to be on that flight with my husband but I had given my ticket to his friend who was in greater political danger than I," says Queri. "My husband had attempted to resign several times from Qadhafi's regime –– in the end the only way to break ties was to flee to Egypt. While we have no hard proof, we are certain Qadhafi was behind this shooting in some way –– he wanted my husband dead for his opposition and thus killed him and a hundred innocent passengers along the way."
Queri went on to mention that exactly 40 days after her husband's plane crash and untimely death, her 18-year-old son, Mohammed Bousier, was arrested on his way home from university and imprisoned for one year.
"Around that time [1974], Qadhafi was aggressively nationalizing all interests and properties in Libya –– that was when they stormed our houses, taking away almost everything we owned. At that point, our only option was to leave Libya once and for all," says Queri with a mournful sigh.
While Queri's family story is certainly a personal account, thousands of Libyans have shared similar burdens while under Qadhafi's dictatorship. Regardless of socioeconomic status or government affiliations, Libyan's across the board were regular victims of human rights violations, including physical violence, arbitrary arrests and detention, and executions in public squares.
Venus Rayes, a current employee within Libyan Embassy in Egypt, told Egypt Independent, "My family had to flee Libya in 1979. My father was in the opposition against Qadhafi and thus it was not safe for us to continue living in our homeland. First we moved to London, but it was too difficult for us there culturally, we felt like strangers. After two years we decided to move to Egypt."
Rayes went on to mention that upon migrating to Egypt, many Libyan families first chose to settle in the coastal town of Alexandria due to the similarities in climate and environment. Libyan migrates assimilated relatively easily to the Egyptian culture; both countries share several of the same norms and values including a heavy emphasis on family and Islamic upbringings.
"While it wasn't easy to start over, it was easy for us to adapt to the Egyptian culture because it was similar to our own. We share the same desert and sea after all," says Queri. "The Egyptians were always so welcoming to us, they are kind and hospitable, warm and inviting."
According to Rayes, Egypt was a heavily sought out refuge during the rule of Egyptian President Anwar Sadat. Known for his heavy stance against Qadhafi — seen through the Libya-Egypt border war in 1977 — Sadat provided Libya's political refugees asylum in Egypt and often times granted them valid citizenships.
Following Sadat's assassination in 1981, former autocrat Hosni Mubarak made vast efforts to amend bilateral relations with Libya and its leader. In 1989, both Mubarak and Qadhafi met in Morocco for the Arab Summit, and the two countries canceled visa requirements for each other's citizens in 1991.
"During Mubarak's rule, it was difficult being Libyan in Egypt. We knew that Qadhafi's agents were everywhere, therefore, the Libyan community didn't interact much with each other," says Rayes. "We were in constant fear that we would be plucked out by one of Qadhafi's men — many Libyans in Egypt at the time only stuck with their own families or their Egyptian friends."
This constant fear gravely affected Libyan society in Egypt. Those seeking refuge in Cairo or Alexandria could not safely gather; thus the social dynamics within the Libyan community were always fragmented or diluted.
In addition to those seeking refuge in Egypt, large majorities of Libyans enter into Egypt in order to pursue undergraduate and postgraduate studies at various universities in Alexandria and Cairo. According to an officer at the Libyan Cultural Office in Cairo, there are nearly 3,600 Libyan students currently studying within Egyptian universities.
Rashad al-Edrisi, an oral surgery student at Alexandria University, says, "I've been doing my post-graduate education here in Egypt since 2008. Further education in Libya is extremely limited — here in Egypt, the studies, professors and resources are significantly better. The goal is to learn here, and go back to Libya to practice."
When the violent uprisings erupted in Libya in February 2011, thousands of Libyans continued to cross the Egyptian border. According to an article published by the UN Refugee Agency, "close to 475,000 people have entered Egypt through Saloum, including Libyans, third-country nationals and refugees who had been residing in Libya. To date, it is estimated that some 238,000 Libyans have returned home, while 15,300 Libyans who entered through Saloum are still living in Egypt."
"Libya is a rich and beautiful country. But it has been abused and our people victimized. I dream of a democratic ruler with the vision of rebuilding Libya so that our children do not have to flee to Jordan, Tunisia or Egypt for education, medical care, or political asylum. I simply want Libya to be more than a dream," says Queri.