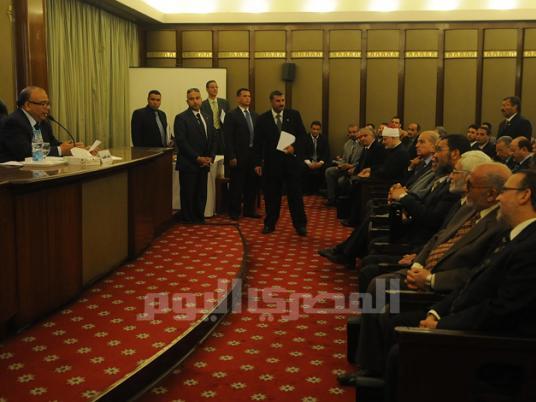 The Constituent Assembly committees chose rapporteurs and deputy rapporteurs on Monday.
The System of Government Committee chose Gamal Gabriel, a constitutional law professor at Helwan University, as its rapporteur and Muslim Brotherhood Guidance Bureau member Mohamed Ali Bishr as his deputy.
The Basic Principles of the State Committee chose Mohamed Emara, a member of Al-Azhar's Islamic Research Academy (ISRA), as its rapporteur and attorney Mohamed Abdel Salam and Salafi Nour Party member Younis Makhyoun as his deputies.
The Rights and Freedoms Committee chose attorney Edward Ghalib as its rapporteur and Muslim Brotherhood members Amany Abul Fadl and Manal al-Tayyeb as his deputies.
A committee tasked with handling suggestions chose Freedom and Justice Party leader Mohamed al-Beltagy as its rapporteur and Abdel Fatah al-Khatib of the Egyptian Trade Union Federation as his deputy, while the Oversight and Regulatory Bodies Committee chose deputy head of the Salafi Dawah Saeed Abdel Azim as rapporteur and Engineers Syndicate head Mohamed Magid Kholosi and Salafi Nour Party member Salah Abdel Maboud as deputies.
Muslim Brotherhood leader Sobhi Saleh, a member of the System of Government Committee, said the committee split into five subcommittees including the executive authority, judicial, local administration, defense and national security and legislative, which he presides over.
"The Constituent Assembly will focus on the 1971 Constitution because it outlines governmental authorities and responsibilities, but will not include the negative points," Saleh said.
"We will attempt to give Parliament the right to hold a no-confidence vote against the government without the president's agreement," he added.
Assembly head Hossam al-Gheriany apologized for his comments during last week's session, when he threatened to resign from the assembly. He said that no member of the assembly blamed him for his remarks. "I would like to consider you not blaming me as forgiveness, if not I ask you to forgive me."
Gheriany's words were received by a round of applause.
Edited translation from Al-Masry Al-Youm