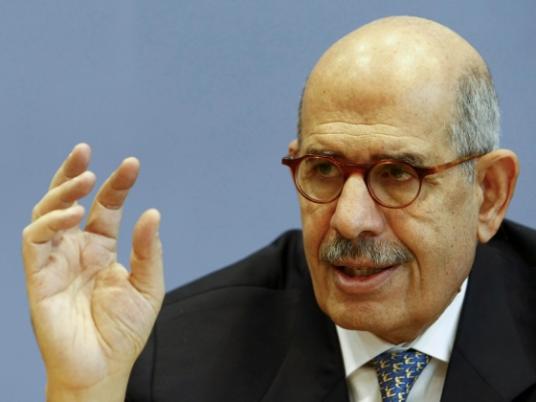 Two hundred Constitution Party members in Giza celebrated the opening of their new headquarters Monday. A crowd of young men, college students and young professionals jostled excitedly around a board, on which members of the newly established party had written phrases expressing their excitement.
"The source of light," read one note; "The hope for tomorrow," said another; and "People first," said a third.
"For the love of an idea we believe in, to see the light of tomorrow, that is why I am in Constitution!" wrote Mostafa Abdel Twab, not to be outdone.
"Constitution member and proud," another had written — a substitute, apparently, for the phrase "Baradawy and proud," a beloved slogan for reform leader Mohamed ElBaradei's supporters. The switch signals an attempt by the party to move out of the shadow of its founder, popularly felt to be remote and out of touch.
But Ahmed Hawary, a member of the party's temporary caretaker council, says the party has already transcended ElBaradei's limited appeal, and that unlike his previous projects, he will be heavily involved in the party. The party first became visible in the streets during Eid celebrations last month, with events in different governorates.
According to the party website, Constitution has "a simple Egyptian ideology, uniting all sectors of the Egyptian people demanding bread, freedom, social justice and human dignity" — a formulation that arguably does not distinguish it from any other party.
A cloud of camera phones and iPads were held up to film party co-founder Ashraf Balbaa, who arrived to rally the cheering crowd.
"We already have voters waiting for us. The party has qualities that none of the other parties have," Balbaa said to cheers from the crowd. "It's the quality of our members who are dedicated and don't look for personal gains. We are confident that we will become the main pole in the political scene."
Speaking to Egypt Independent, political analyst Abdel Halim Kandil says that with no track record on the ground, and its association with ElBaradei — as aloof from the street as he is beloved of the young, iPad-waving intellectuals — the hopes of the Constitution Party faithful are likely to be frustrated.
At the celebration, a TV showed a video montage of the young activists' work, including a trip on the Nile, to the soundtrack of Tamer Hosny's popular song, "Look for the Good and Do It."
This piece was originally published in Egypt Independent's weekly print edition.