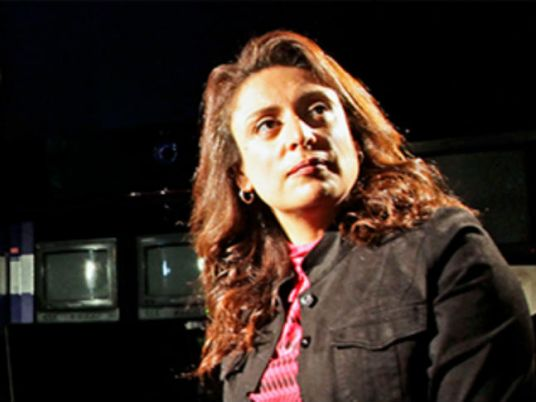 The North Cairo public prosecutors released host Mona Iraqi on bail along with six employees who work on her TV program "Entebah" presented on al-Mehwar channel. They were arrested on charges of inciting the kidnapping of children, Al-Watan website reported.
The police received a communication from Iraqi accusing a woman of mediating the abduction of children.
When interrogated by the police, the woman in turn accused Iraqi and the crew of her program of attempting to bribe her to abduct any child to be handed over to Iraqi and the program.
This is not the first time Iraqi has gotten involved in similar cases. Al-Watan cited previous situations where similar accusations were brought against her.
Iraqi was sentenced in 2015 to six months in prison with a LE 10,000 bail over charges of "defamation" and broadcasting false news for her controversial filming of a bathhouse raid in December 2014. In January 2016, the verdict was rescinded.
Iraqi received widespread criticism in 2014 for cooperating with police in the raid of a bathhouse located near the Ramses neighborhood of Cairo, in which 26 men were accused of "debauchery", a blanket legal term for homosexual activity. As the police were escorting the naked men out of the bathhouse, Iraqi filmed the incident for her then-TV program "Al-Mostakhbai" (Hidden) on the Al-Kahera wal Nas satellite channel.
The 26 men filed a lawsuit against Iraqi accusing her of defamation after they were acquitted. In January 2016, the verdict was canceled after Iraqi appealed the ruling.
In 2015, the assistant director and cameraman of "Al-Mostakhbai" were arrested in possession of heroin while filming an investigative report on drug dealers in al-Salam City.
Prosecutors summoned Iraqi at the time to take her testimony after the cameraman and the assistant director told the police that Iraqi had instructed them to carry the drug while filming. They were released for LE 500 each.
In 2018, the Board of Directors of the Media Syndicate referred Iraqi to the syndicate's Legal Committee for interrogation over using inappropriate expressions on air during her program "Entebah".
Hamdy al-Konaysi, head of the Media Syndicate, said that the syndicate observed the "professional and moral error" she had committed on air while addressing a rape case, upon which she was referred to interrogation.