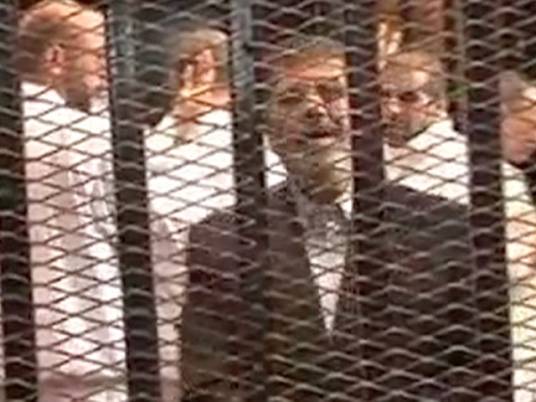 Cairo Criminal Court held at the Police Academy postponed Thursday the trial of toppled President Mohamed Morsy and 14 Muslim Brotherhood leaders and former presidency officials over charges of killing protesters at Ettehadiya Presidential Palace to 15 July.
In Thursday's session, the court heard the rest of the prosecution's witnesses.
The defendants are charged with inciting the killing of three protesters and injuring others outside the presidential palace.
Many Morsy opponents and supporters were killed and injured as both clashed outside the palace during protests against Morsy on 5 December 2012.
Among the defendants are Assad al-Sheikha, Morsy's deputy chief of staff, Ahmed Abdel Aaty, former director of the president's office, Ayman Abdel Raouf Hodhod, former president's adviser for security affairs, preacher Wagdy Ghonim, FJP leaders Mohamed al-Beltagy and Essam al-Erian.
Edited translation from Al-Masry Al-Youm