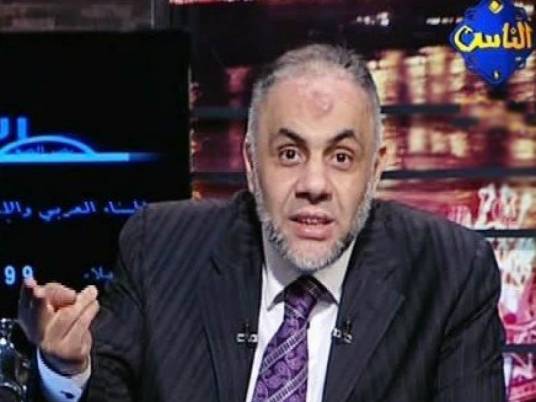 An Egyptian court on Wednesday fined TV host and Salafi preacher Khaled Abdallah L.E10,000 for insulting actress Hala Fakher. 6th of October City's Misdemeanor Court also sentenced Abdallah to a three-year suspended jail term in the same case.
The same court cleared Fakher of charges of insulting Abdallah in a lawsuit filed by the preacher.
During the last session of the trial, Khaled Moheyyeddin, Fakher's lawyer, submitted audio tapes that had recorded Abdallah's insults to Fakher.
During his talk show on the privately-owned Al-Nas satellite channel in late July, Abdallah described Fakher as a "third class actress" after seeing her interview with the journalist Magdi el-Gallad on the privately-owned CBC satellite that same month.
Fakher, in her interview with Gallad, commented on a photo of former presidential hopeful Ahmed Shafiq, saying "I love him," and also commented on a photo of President Mohamed Morsy, saying "I don't know him, neither do the people."
In his talk show, Abdallah described Fakher as a "third class actress." He claimed her statement about President Morsy was "impolite," and added "You will know who he is when the country settles down, and people like you will be put in their place."
He held the people responsible for the existence of artists, saying that they have no one to blame but themselves "for spending money on art and cinema and for calling talk shows to greet impolite artists." Abdallah then criticized Fakher's support of Shafiq.
The Salafi preacher has fomented several major controversies over the last year. He often attacks liberal and secular forces on his show. Abdallah also said that media workers "hate God's law," and that reform advocate Mohamed ElBaradei "is backed by American support."
On 3 November, the Administrative Court ruled that Abdallah's program be banned for 25 consecutive days, and that the TV presenter himself be banned from appearing on any other TV program or participating in any phone-in interview for those same 25 days.
Edited translation from Al-Masry Al-Youm