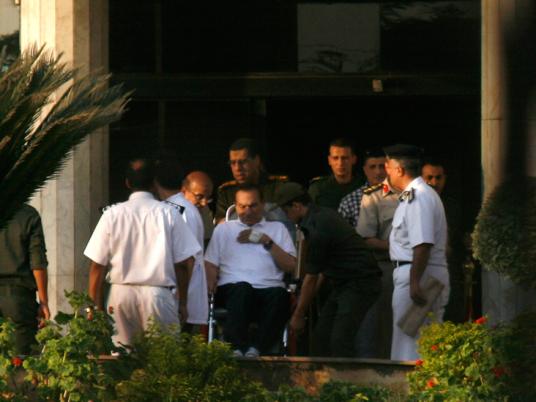 The State Council Administrative Court on Tuesday rejected a case demanding that ousted President Hosni Mubarak be moved to a military hospital from Tora Prison Hospital.
Mubarak and his Interior Minister Habib al-Adly were found guilty of failing to prevent the killing of protesters during the 25 January revolution. They were sentenced to life in prison in June.
Mubarak is serving his jail sentence in the Tora Prison Hospital. The lawyers that filed the case argued that Mubarak's condition requires close medical observation that is not available in the prison hospital. They asked that Mubarak be transferred to a military hospital to receive the appropriate treatment.
The prosecutor general in August ordered that Mubarak remain in the prison hospital, based on a report by a medical committee that had concluded that his health is generally stable and controlled with drug therapy.
Meanwhile, security sources within the Prisons Authority told Al-Masry Al-Youm that Mubarak and his sons, Alaa and Gamal, are closely following the controversy over the new constitutional declaration.
The sources, speaking on condition of anonymity, said Mubarak is in high spirits, and his health condition is stable.
Mubarak, according to the sources, described what happening in Egypt as "chaos," and told his son Gamal that this is what he warned against before. The source added that Mubarak said, "It is inevitable."
Mubarak called Morsy's decree a method of restricting the judiciary, the sources said, and told Gamal that he never issued such decrees during his tenure as a president.
Mubarak reportedly added that the dissolution of the State Security Investigation Services is one reason for the escalating crisis.
Edited translation from Al-Masry Al-Youm