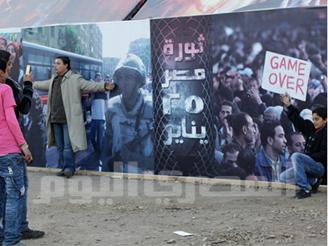 The well-known "We Are All Khaled Saeed" Facebook page, slammed the Freedom and Justice Party's newspaper in a message Sunday, saying that its characterization of the Mahalla workers' sit-in as treason is unacceptable after the revolution.
The newspaper claimed on Sunday that there were elements from the dissolved National Democratic Party and State Security behind the workers' protests.
"Similar protests in the past year and a half have succeeded in revealing cases of corruption and squandering of public funds," the message said. "And the right to peaceful protest is guaranteed to all citizens."
More than 23,000 workers angered by low wages at Egypt's biggest textile company, the state-owned Misr Spinning and Weaving, have begun the seventh day of a strike.
They demand better compensation, the dismissal of the company chairman and all other leaders loyal to the former regime, and the return of workers who were fired under that regime.
Their strike has brought production to a halt, adding to the challenges facing the newly elected Islamist President Mohamed Morsy as he strives to form a cabinet to replace the army-backed administration.
On Sunday, a statement by the acting spokesperson for the presidency said that Morsy had met with representatives from the workers to discuss their demands.