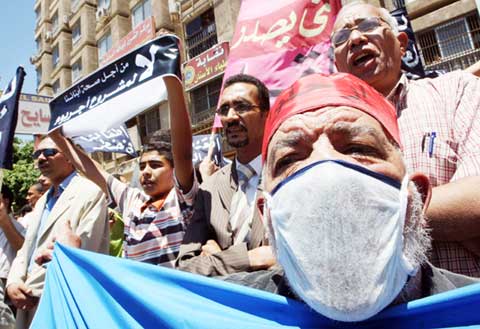 Clashes erupted in Damietta on Thursday between the police and residents protesting against the expansion of the MOPCO Agrium nitrogen fertilizer facility in their area.
The clashes, in which five policemen and five protesters are reported injured, errupted after residents blocked a road, setting fire to a car belonging to the municipality headquarters. The police retreated after failing to disperse the protesters, and Damietta Governor Mohamed Ali was reported as being away on holiday.
Reports on Wednesday suggested that the armed forces had successfully broken up a sit-in by residents in Damietta protesting against the Agrium plant. However, on Thursday, the residents apparently re-grouped, blocking a road and clashing with police.
Petroleum Minister Abdallah Ghorab said that he would not stop the expansion of the fertilizer-producing facility, saying that it abides by local and international standards and regulations.
He said that civil society organizations and professors of the Damietta Sciences College had approved the environmental impact assessments conducted for the plant, and that the government is committed to protecting the good health of residents.
However, representatives of several civil society organizations requested that the planned expansions be suspended until all petrochemical facilities in Damietta have been re-evaluated.
The plant, which is part-owned by Canadian company Agrium, has been heavily criticized by local and international environmentalists concerned that the waste from the plant might harm the health of residents and damage the marine ecosystem, affecting the local tourist trade.
The workers at the factory, for their part, said the plant's expansion is not hazardous to the environment.
Translated from the Arabic Edition