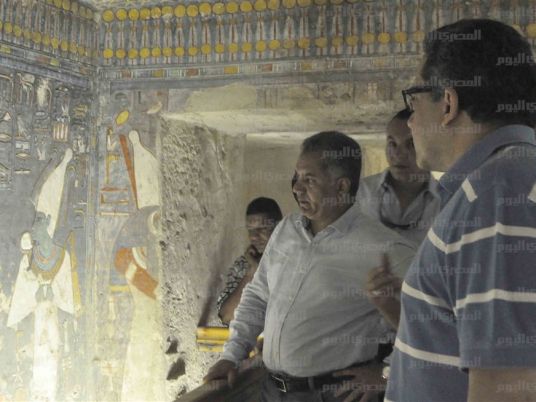 Daqahlia Antiquities Department announced Wednesday the discovery of an archeological cache including dozens of bronze artifacts dating back to the pharaonic city of Rou-Nefer in Tal Tablala area, Dakarnas City.
The artifacts were discovered during an excavation project in Dakarnas.
The department mentioned in a statement Wednesday that the discovered artifacts proved that Rou-Nefer was the commercial city on which the city of Mendes depended under the Twenty-sixth Dynasty of Egypt in the Late Period (664-332 BC).
Mendes lied on the Mendesian branch of the Nile, north Tell El-Ruba, currently Mansoura City.
Among the dicovered artifacts are statues for the pharaonic gods Thoth and Ausir, the Copra staue with a human head, and a bronze statue for a crocodile, which was active in the Mendesian branch of the Nile at that time, according to the statement.
Tal Tablala area is soutwest Dakarnas City in Dakahlia. It includes the remains of a pharaonic city called Ra Nader, meaning beautiful Ra, who was the god of sun for ancient Egyptians.
Edited translation from Al-Masry Al-Youm