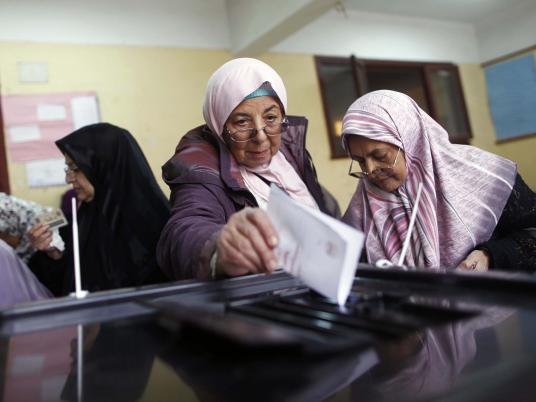 On Tuesday, US-based Democracy International, the largest international organization to monitor Egypt's consitutional referendum taking place on 14 and 15 January, began monitoring polling stations, employing 90 observers spread out all over Egypt.
The observers, who are working in teams of two, hail from diverse countries, including the US, Afghanistan, Croatia, Greece, Italty, Lebanon, Mexico, Spain, Tunisia and the UK.
The organization, which was recently approved by the High Elections Commission, has stationed observers in all governates except four, due to transportation and safety concerns.
In a press conference last Thursday, representatives from the organization said they had met with a wide array of Egyptian stakeholders in the referendum, ranging from political parties to interest groups, and had been very well received in their meetings.
"The reception we've gotten has been cordial and discussions have been pretty open. The reason we have those meetings is so they understand why we're here," said Dan Murphy, the leader of the DI core team.
Though observing polls is standard international practice, the representatives admitted they struggle against common mispercetions about their role during the referendum.
"People are confused about what an election mandate is. We are not giving advice whatsoever. An observer mission is just that: we observe," Murphy explained. "If we notice something happening, we note it. We don't try to stop it. It's a very specific mandate given by the authorities of Egypt. We're not here to give advice."
Following xenophobic campaigns spread by the military after the 25 January revolution, many Egyptians have become distrustful of international organizations, believing their purpose is to seed chaos and carry out espionage for foreign governments. Many also see these groups as forcefully orchestrating change in Egypt as the West sees fit.
DI's Director of Programs Jed Ober stressesed that DI has been happy to dispell any misconceptions face-to-face, and so far many stakeholders have been eager to meet with their organization, even the pro-Morsy National Coaliation to Support Legitimacy. "We've met with everyone. No one has rejected us. We've had about seven to eight meetings a day with various organizations," he added.
The observation mission, funded by a USAID grant, will look for a wide variety of voting irregularities, which could be anything from political parties or other officials passing out literature or persuading people in or near the polling stations, improper storing or counting of votes, intimidation of voters and so on.
After the referendum, the observers will meet with DI and debrief their findings, followed by a release of the organization's findings. The report will cover topics such as any voting violations as well as the general atmosphere surrounding the referendum.
Though they said they do not hold preconceived notions about the results of their assessment, Murphy and Ober stressed the importance of having neutral international observers to monitor the referendum. "This is part of a process that is very typical. It's a very normal standard thing that we'e doing," Murphy said.