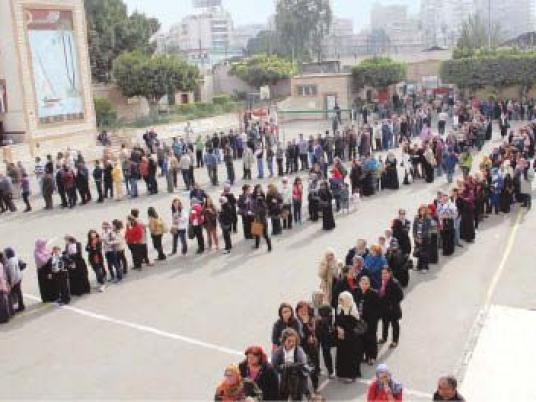 Egypt's Higher Elections Committee announced on Tuesday it will begin accepting applications for international and local non-governmental organizations (NGOs) to monitor upcoming parliamentary elections.
The move is a welcomed step toward transparency in Egypt's political system, which is supposed to be undergoing a pivotal transition to free and fair democracy. "We said we are willing to hold elections that are supervised by the whole world, including the United Nations," declared General Abdel Fattah al-Sisi in a 24 July speech at the Navy and Air Defense academies graduation.
Some, however, argue this move is merely a facade of transparency as elections fraud is bound to continue as it did during the 2012 parliamentary elections. "If I am called to supervise any elections, I will reject," asserted Dr. Foad Abdul Moneim, a member of the National Council for Human Rights. "I saw lots of frequent vote riggings, bribes in 2011 elections and could not stop them."
In the 2012 parliamentary elections, only four international NGOs participated in the monitoring, represented by 870 monitors, compared to 50 Egyptian NGOs, representing 90,821 to monitor polls across Egypt.
Among the previously-registered NGOs are the Carter Center, Democracy International, New Women Foundation, National Council for Human Rights, Electoral Institute for Sustainable Democracy in Africa (EISA) and Election Network in the Arab Region.
Dr. Abdul Moneim argues having foreign elections monitors is key to having transparent elections as they offer a unique perspective and insight in their expertise. "We must offer more space for international NGOs to monitor our elections to show the world that we have fair elections," he said.
The elections committee's recent announcement, which appeared in the official Egyptian Gazette, states that even NGOs rejected for monitoring the 2012 parliamentary elections could apply for registration from 2 to 9 November.
In turn, the committee, headed by Nabil Salib Awadallah, will report a detailed list of accepted NGOs by 27 November after considering all applications.
Committee Spokesman Hisham Mokhtar says these NGOs would be also allowed to monitor the referendum on the Constitution as well as any other elections stipulated in the Constitutional Declaration announced on 8 July, state-run MENA reports.
The committee decision is meant to facilitate the monitoring process but provided that each NGO would provide necessary documents that prove they are still registered as a civil society organization and that they are still doing the same activities for which they were approved before.
Though frustrated at his experience, Dr. Abdul Moneim believes the recent decree is important but is skeptical about holding de facto fair elections, given Egyptians at both governmental and grass-root levels "have not enough awareness of the electoral process."
Following the ouster of President Mohamed Morsy, interim President Adly Mansour set forth a 33-article constitutional declaration to set benchmarks in the political transition.
According to article 30 of the declaration, President Mansour must hold a public referendum on the constitutional draft within 30 days of receiving it. If the constitution is approved, it will be become effective the same day.
The president then has 15 days to announce the date of parliamentary elections, which should be held between a month and two months from the announcement.
Following the parliamentary elections, the call must be made within a week announcing presidential elections.