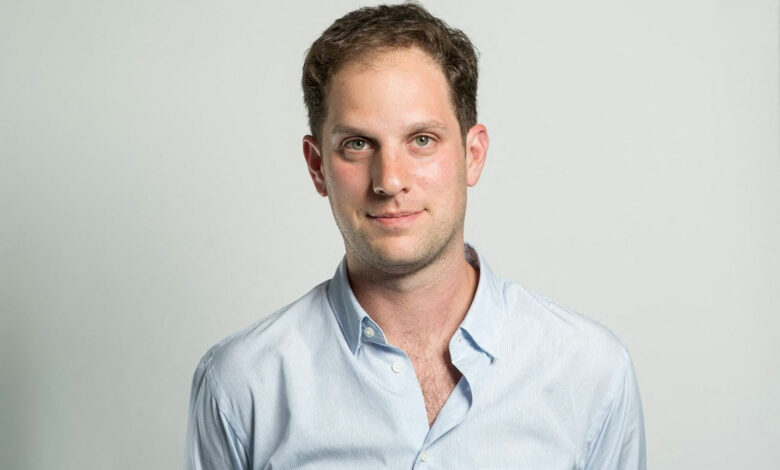 The family of Wall Street Journal reporter Evan Gershkovich, who the US State Department classifies as wrongly detained by Russia, have spoken out for the first time in an exclusive video interview with the newspaper.
WSJ reporter Shelby Holliday asked the journalist's father, Mikhail, if the pair ever talked about what could happen to him as a journalist in Russia. Mikhail said "no" but said he trusted his son and his judgement.
"Of course, it makes things more difficult for me now. [Because] I feel I've failed in some way as a father," he added.
Following Gershkovich's detention on March 29, his mother Ella Milman, who left the Soviet Union for the United States in 1979, said she had a sixth sense that something had happened to him.
His sister Danielle spoke of how her parents, who emigrated from the Soviet Union separately but in the same year, raised her and Evan to have pride in where they came from.
She said she was "in awe of him" when reading about Russia through his reporting
Danielle noted that her and her brother are "so different. I'm a home body. He's a thrill seeker, an adventure. I can't even relate to him sometimes in the life he leads, as a reporter.
"I think… America reports on Russia sometimes in a way that makes it seem like a pretty terrifying cold place, he was really passionate about showing other sides… the nuance and the beauty of it," Danielle said.
His parents told the WSJ he "loved having fun' from an early age and was always very curious. His mother said he had "so many friends" and they saw Russia through his eyes, and it was "beautiful".
The reporter began his role at the WSJ a month before the Russian invasion in Ukraine began in February last year. "He said that I'm one of the few left there, I know that he felt like it was his duty to report there," his mother recalled.
"When we came to visit him in 2018, I said to him that this is the country that I left and this is the country that you love and he said, 'what an interesting thought'," she added.
His dad said he "couldn't have stopped him" from going to Russia.
His sister said she hopes he's writing in prison and she's hoping he "can make friends" in there. She said seeing the publicity his case is getting is "strangely helpful for me" and as a family "they will do whatever it takes" to free him.
"It's one of the American qualities that we absorbed, be optimistic, believe in… happy ending. That's where we stand right now. But I am not stupid. I understand what's involved, but that's what I choose to believe," his mother Ella concluded.
Some background: Gershkovich was detained last month by Russian authorities who accused him of spying, ratcheting up tensions between Russia and the US.
Gershkovich's arrest marks the first time an American journalist has been detained on accusations by Moscow of spying since the Cold War.