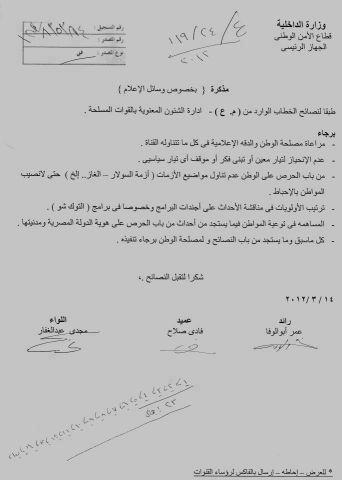 Egyptian activists on Facebook and Twitter circulated a document attributed to the National Security Agency under the title "Advice" directed to satellite channels urging them not to tackle certain issues that might "cause frustration to the citizen."
The document, published by an anti-military council Facebook page, bears the signature of the national security chief, Major General Magdy Abdel Ghaffar, and is dated 14 March.
The document consists of six items, and the last line reads, "Send by fax to the heads of channels."
According to the document attributed to the agency, it had been sent to the heads of satellite channels "upon the advice of the Armed Forces' Morale Department."
The six items include: "Taking into account the interests of the country and the accuracy of information in all that the channel covers," "Not being aligned to a specific [political] current, or adopting a certain position from any political current," and "Maintaining the security of the homeland by not tackling crises (diesel, gas, etc.) so as not to cause frustration to the citizen."
The document pointed out to the need to "reorder priorities for discussion on programs, especially in talk shows," and to "contribute to [spreading] awareness among citizens with regard to new, emerging events regarding the identity of the Egyptian state and its civil nature."
The memo concluded by stating: "All of the above and any other new tips are out of concern for the interests of the country, so please implement. Thank you for accepting this advice."
The interim government disbanded State Security Investigation Services in March 2011 and replaced it with the National Security Agency. Many critics, however, believe the change was more cosmetic than substantive.
The SSIS, Egypt's much-feared and hated security agency, was used by the regime of former President Hosni Mubarak to suppress political dissent. The agency was accused of torturing detainees.