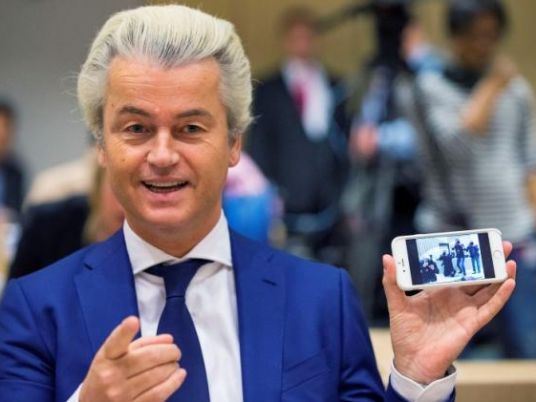 Geert Wilders, the Dutch politician leading calls for a European Union ban on Muslim immigration, was back in court on Friday to answer charges of inciting hatred and discrimination against the Netherlands' Moroccan minority.
Prosecutors said the case, which follows the acquittal in December of Wilders' political ally Marine le Pen in France on similar charges, pits the right to freedom of speech against the right to freedom from discrimination.
"Freedom of expression is not absolute, it is paired with obligations and responsibilities," said lead prosecutor Wouter Bos, "the responsibility not to set groups of people against each other."
"Racism and hatred of foreigners constitute a direct violation of the foundations of freedom, democracy and the rule of law."
Wilders denies wrongdoing, saying the trial is politically motivated and that his comments are protected by his right to free speech.
With his trademark peroxide blond hair, he joked with reporters at the start of the hearing and listened calmly as the charges were detailed.
Wilders attracted the attention of prosecutors by repeatedly calling for "fewer Moroccans" during election campaigning in 2014.
At one televised rally, he asked supporters whether they wanted more or fewer Moroccans, triggering the chant: "Fewer! Fewer! Fewer!", to which a smiling Wilders responded: "We'll take care of that."
Prosecutors said his supporters had been coached before the event, significant for their attempt to show that Wilders had intended to incite hatred. Later, Wilders publicly referred to Moroccans, who make up about 2 percent of the population, as "scum".
The trial comes amid a heated debate about an influx of refugees from Syria, which is opposed by a large part of the Dutch population.
Leading in polls
Wilders and his decade-old Freedom Party have risen to become the most popular party in national opinion polls by a wide margin, with elections expected in March 2017.
He has lived under 24-hour protection since the 2004 murder of writer Theo van Gogh, who — like Wilders — made films criticizing Islam.
"Nobody will silence me. Not about Moroccans either," Wilders tweeted last week. "No terrorist threats … no judge. Nobody."
A handful of Wilders supporters and members of the Dutch branch of the German anti-Islam movement Pegida demonstrated outside the courtroom. Some wore children's hats with pigs' ears, saying they were affirming their right to taunt Muslims, who are forbidden to eat pork.
"It's not about whether you agree with what [Wilders] said, it's that you have the right to say what you want," said demonstrator Edwin Wagensveld.
He said important debates were being stifled, not least about the opening of asylum seeker centers in numerous Dutch towns to house refugees from the Middle East.
"I think that, if this trial doesn't end in acquittal, then we have a big problem in this country," he said.
Wilders says he has no grudge against immigrants who accept Dutch laws and customs, and that he has never advocated violence.
An earlier discrimination case against him in 2011 centered on his calls for "Muslim criminals" to be stripped of their Dutch nationality and deported, and his comparison of the Koran to Hitler's manifesto "Mein Kampf".
Judges concluded then that Wilders' remarks might have been offensive, but acquitted him because the target was a religion, not a race.
Wilders faces one charge of discrimination and a second of inciting hatred of Moroccans. If convicted, he could go to jail for as long as a year and be fined a maximum of 7,400 euros.