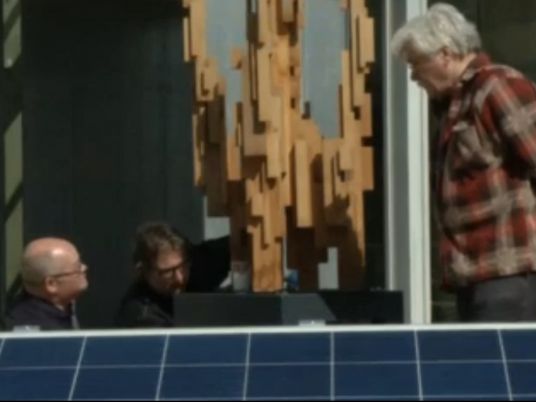 A Dutch sculpture presented on Earth Day spouts water six meters high without using conventional water or power sources in what creators hope will inspire new ways to ease resource shortages in drought-prone climates.
The Solar Fountain, which took Dutch inventor Ap Verheggen six years to develop, produces around two liters of water per day using an ordinary dehumidifier, two 250-watt solar panels and a rechargeable battery pack.
"We present the sculpture with technology that's off the shelves," Verheggen said.
"I want to show with this project that we can really do it, that it is an option for future development."
While the parts are easily available, at a cost of roughly 1,000 euros (US$1,125), the fountain is not yet a realistic solution for impoverished desert regions with water shortages.
"We hope to inspire other people that they pick up the idea and that they start to make watermakers…this is the first step," Verheggen said.
Water output was greater in simulated desert-climate conditions due to stronger sunshine, but the prototype does has technical limitations. The dehumidifier cannot extract water from the air in temperatures below 13 degrees Celsius.
Solar Fountain can be seen in the "Museum of the Sculptures on the Sea" in The Hague until October 2.
($1 = 0.8884 euros)