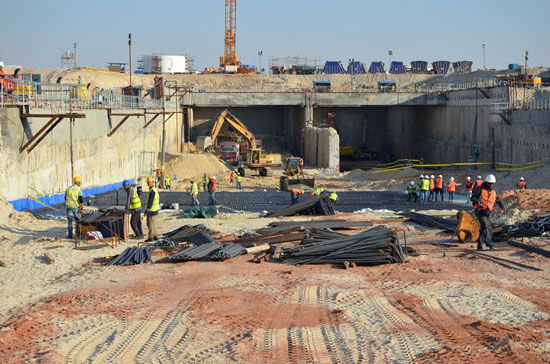 President Abdel-Fattah al-Sisi said during a visit to East Port Said industrial zone on Saturday that the government is undertaking economic reform measures to provide funds for the Sinai Development Project totaled at LE275 billion.
Sisi suggested that part of the amount which the Egyptian people donated to dig the New Suez Canal — LE64 billion in total — is being used to construct the canal's tunnels.
Sisi clarified that the government started the three projects in parallel — the New Suez Canal, tunnels and the East Port Said industrial zone.
Chief of the Engineering Authority of the Armed Forces Kamel al-Wazer answered Sisi's question on the reasons for the late completion of the East Port Said Development Project and said that stones required for the project are being transferred from Suez quarries because they are cheap.
Wazer said that the deadline for the project will possibly extend until October 2018, three months later than the original deadline.
Edited translation from Al-Masry Al-Youm