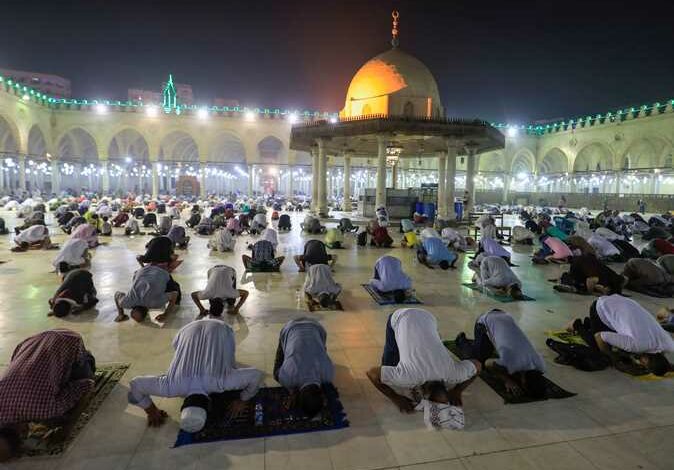 The Egyptian Ministry of Religious Endowments announced on Monday the rules for the work of mosques during the holy month of Ramadan for this year.
The prayer and sermon of Friday will be held as it is now, which has been in place since last Ramadan, and the Tarawih prayer will be held as last year with the same distancing and mitigating measures.
The Ministry explained in a statement that the duration of the Tarawih prayer will be about half an hour immediately after the evening prayer, while adhering to the precautionary measures against coronavirus.
With regard to women's prayer rooms in mosques, the measures will be the same as mosques in terms of adherence to precautionary measures and social distancing.
This comes while continuing to allow funeral prayers in major mosques in which Friday prayers are held, as is now in effect, while adhering to the procedures for distancing.
A preference to open places in mosques is preferred whenever available.
The Religious Endowments Ministry confirmed that its main role is to maintain mosques in terms of structure and meaning, to spread rational moderate thought, and to work on developing endowment money and spending its returns accordingly.
It said: from this standpoint, it is doing its utmost to achieve these goals, and since Ramadan is the month of goodness, and blessings, the Religious Endowments Ministry has formed an operations room to follow up on the ministry's preparations to receive the holy month through the maintenance of mosques.
The renewal of their furniture, and the conduct of cleaning and sterilization campaigns before the advent of the holy month.
The ministry indicated that there are preparations for many programs such as recitations, invocations, scientific programs and Ramadan fatwas.
There are also doubling of charity work and donations and community services in this holy month through food bonds and others.
It added: taking into account all precautionary, social distancing measures, and all controls set by the Supreme Committee for the Management of the Pandemic and Health Pandemic Crisis in the cabinet, based on scientific medical opinion.