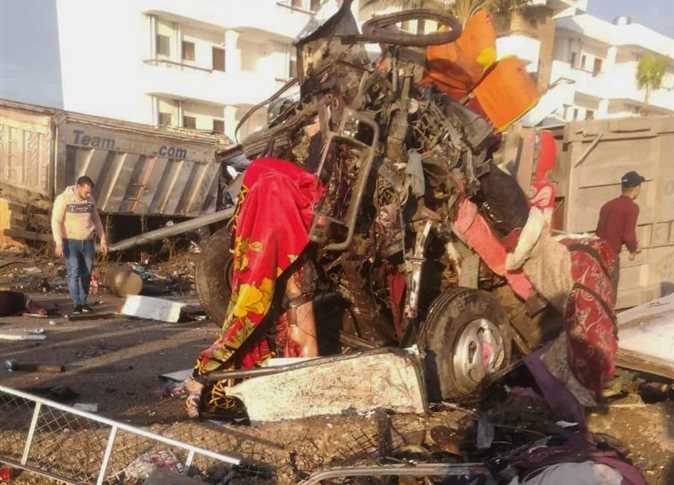 Egyptian Public Prosecutor, Hamada al-Sawy, on Sunday ordered the detention of a driver suspected to have caused a major traffic accident in Port Said on Saturday, leaving 23 people dead.
The Forensic Medicine department said that a drug test proved that the driver, Ahmed Mohamed, was using cannabis.
Sawy ordered Mohamed be detained for four days pending investigations into the accident, and summoned eyewitnesses and the injured to testify as part of the investigation.
Sawy also ordered the formation of a team from the Public Prosecution in Port Said to investigate the collision of three vehicles on Saturday at the Port Said-Damietta highway in front of al-Fardous village, the Public Prosecution said in a statement.
An inspection of the scene revealed that the the accident occurred when a truck-trailer, a bus and a private car collided. The truck-trailer and bus were destroyed, while the private car suffered only partial damage.
The driver of the private car in her testimony said that the driver of the truck-trailer, Mohamed, was speeding excessively and hit her car from the left side.
The suspect defended himself, claiming it was the private car's driver who hit him, causing him to lose control of the vehicle and hit the bus coming from the opposite direction.
The prosecution referred both drivers to the forensic medicine department for drug testing. The results were positive for Mohamed, and negative for the other.