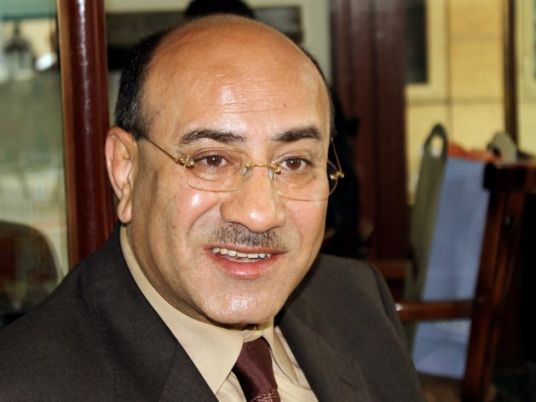 A rare TV interview with Egypt's former chief auditor, who went on trial after publicly alleging massive government corruption, has been banned, the former state official said on Sunday.
Hesham Genena, who was fired by President Abdel-Fattah el-Sissi after he spoke out against corruption in March, told The Associated Press that Al-Mehwar TV network canceled the entire episode of the "90 minutes" talk show without giving any reasons.
Al-Mehwar has been airing promos for the interview for several days and it was due to be aired on Saturday night. Instead the network replaced it with a soap opera.
Genena said that before recording a three-hour-interview, he asked producers to get security clearance, knowing that he could be blacklisted because of his anti-government positions. He said he only gave the interview after getting assurances that there were no security objections.
In the interview that was banned, Genana said that he spoke about the role of anti-corruption watchdogs and the need for transparency and freedom of information.
"Maybe this is what upsets them, to say the public has the right to know. The relationship between the ruled and the ruler is based on accountability," he said. "What is happening is really sad."
Sami Abdel-Radi, the chief-editor of the program, told The AP, "all I could say is that it has been banned." He denied reports that the host resigned in protest.
A campaign to silence Genena, who was the head of the Central Auditing Organization, has been in the making since the military ouster of Islamist President Mohammed Morsi in 2013 and subsequent election of el-Sissi in 2014.
El-Sissi issued a decree last year giving himself the power to remove heads of independent bodies, like Genena, despite their constitutional immunity. Then remarks by Genena in December that corruption had siphoned off 600 billion Egyptian pounds (around $75 billion) in 2015 alone, stirred debate. He later said he was misquoted, that the figure covered four years and that it was arrived at following an exhaustive study.
A presidential commission was quickly formed and accused him of misleading public. In March, he was removed from his post and a court sentenced him to one year in prison for "spreading false news." While appealing the verdict, Genena is also challenging el-Sissi in courts, saying his removal was unconstitutional.
The ban of the interview also comes at a time that el-Sissi has continued to voice intolerance toward the media's handling of internal and foreign affairs. Last week, he accused the media of "harming Egypt, big time, without intention."
Since el-Sissi was elected in 2014, several TV hosts, especially those who are critical of the government, were either suspended, fired, or deported while the ownership of private TV networks were changed. The measures come hand-in-hand with heavy security measures against dissent, either Islamists or pro-democracy advocates, with thousands killed and imprisoned under the banner of fighting terrorism and preserving Egypt's stability.