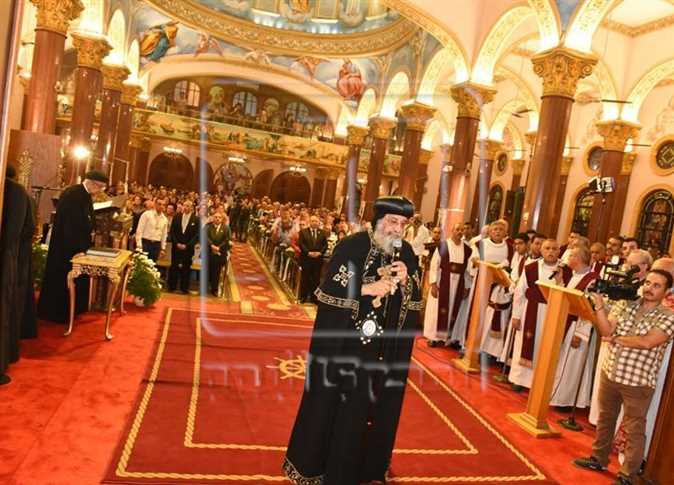 A dispute between Egypt's Coptic Orthodox Church and the Coptic Catholic Church over recognizing the sacrament of baptism has been renewed after Bishop Makarios, the top Coptic Orthodox cleric in Minya, said that that the Holy Synod refused to recognize the baptism of the Coptic Catholic Church.
During a meeting at a Minya church on Friday, Makarios said that the Orthodox Church doesn't recognize the very priesthood of the baptizing Coptic Catholic priest, or the sacraments he performs.
Makarios dug the historical argument that the Orthodox Copts have been present in Egypt since the first century AD, while Catholic presence came with French colonialism and Protestants accompanied the British occupation.
Makarios also argued that Catholic Copts and Protestant numbers in the country are small in comparison to the vast Orthodox following, with 160,000 Catholic Copts, 500,000 Protestants, and between 17-21 million Orthodox Copts.
He also stated there were around 3,600 churches in Egypt, with 1,000 belonging to Protestants.
In statements to Al-Masry Al-Youm, Makarios explained that his statements on Friday were in response to a question regarding whether the Coptic Orthodox church agreed to recognize the sacrament of baptism of the Coptic Catholic Church. He added that while his response can't be regarded as an official statement for the Holy Synod, it remains a deep-rooted religious issue transcending his personal perspectives.
In response to Makarios' statements, Bishop Antonios Aziz, head of the Coptic Catholic Eparchy of Giza, said he was "sad to hear such talk."
"The Catholic Church prays for unity and its opinion is clear and explicit, but there is disagreement among the Orthodox Church in accepting the idea of baptism. What is the difference between those who came from the first century and those who arrived yesterday," asked Antonios in an impassioned response, "are not they Egyptians and Copts?"
Following Pope Francis' visit to Egypt in April, it is reported that he and Coptic Pope Tawadros II signed a declaration in which Catholics and Copts will recognize each other's. Sacrament of baptism, for the first time.
According to websites affiliated with the Catholic Church, the declaration affirms that there is no need for a second baptism for Christians who convert from one Church to another.
The controversial reported declaration stirred debate among Catholic Christians in Egypt.
Edited translation from Al-Masry Al-Youm