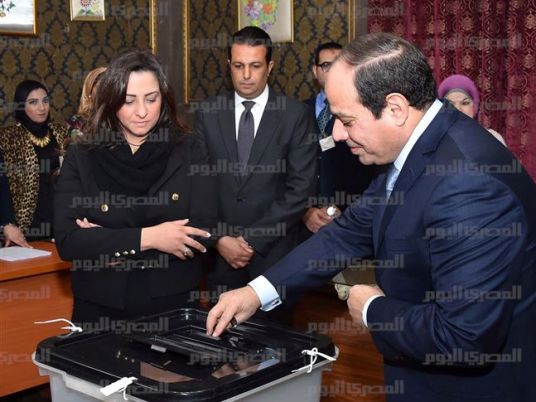 Egypt's Foreign Minister Sameh Shoukri stressed the Egyptian government's full commitment to holding free and fair presidential elections that once again will prove Egypt's commitment to its democratic process.
The statement came during a meeting on Saturday between Shoukri and German Interior Minister Thomas de Maizière on the sidelines of the Munich Security Conference.
Foreign Ministry spokesperson Ahmed Abu Zeid said that Shoukri's remarks came in response to a question from the German minister about the preparations for the upcoming presidential elections in Egypt.
Zeid said that Shoukri reviewed the general features of the electoral process for the German minister.
Just two candidates will run in the elections, scheduled for March; sitting President Abdel Fattah al-Sisi and Ghad party head Moussa Mustafa Moussa.
All other presedential hopefuls, including former army Chief of Staff Sami Anan, rights lawyer Khaled Ali, and former-Prime Minister and 2012 presidential hopeful Ahmed Shafiq, have either backtracked on their bids for the presidency or been blocked by authorities from running.
Ali announced his withdrawal from the race at a press conference, citing restrictions by authorities on his campaign, and the arrest of Anan.
Anan was ousted from the race after accusations by the Armed Forces that he had committed legal violations including forgery. He was arrested and is now believed to be held in a military prison.
Shafiq has reportedly been under house arrest at one of Cairo luxury hotels since his return from his self-imposed exile in the UAE until he backtracked on his bid for the presidency.
Edited translation from Al-Masry Al-Youm