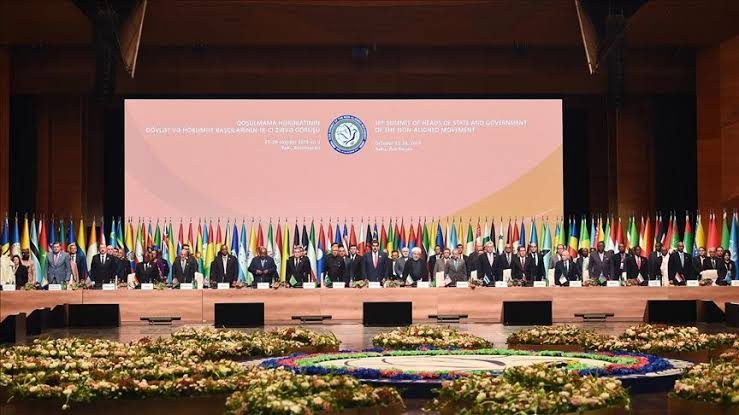 Egypt on Friday condemned terrorism, all methods of funding, recruiting and promoting terrorism, and the use of terrorism for political purposes, Minister of Foreign Affairs Sameh Shoukry said during the 18th summit of The Non-Aligned Movement (NAM) in Azerbaijan.
Shoukry stressed that world countries must adopt a comprehensive methodology towards combating terrorism, and implored UN Security Council to hold all terrorism supporting regimes under accountability.
The Minister added that the Turkish occupation of Syria's northern territories violated international law and the principles of the NAM, calling for the withdrawal of Turkish troops from Syria as well as the initiation of political process to implement the Security Council resolution no. 2254.
The spokesperson for the Ministry of Foreign Affairs, Ahmed Hafez said that Shoukry also discussed challenges facing the Middle East, and called to confront any attempts at dismantling states.
Shoukry further condemned any attempts at igniting sectarian sedition and asked for commitment to what composes the modern natural state, including the principles of citizenship, equality and rule of law, respect for human rights and people's choices, non-intervention in countries internal affairs, rejection of foreign occupation, and the need for holding accountability against serious crimes such as genocide and war crimes.
He praised the NAM's stance in favor of the Palestinian cause, referring to importance of reaching a fair and comprehensive settlement in view of international law, UN resolutions and the Arab Peace Initiative.
Shoukry also discussed the water scarcity problems which threaten several areas worldwide, including Egypt and African Sahel area.
The NAM is a forum comprised of 120 developing world states that are not aligned with or against any major power bloc. The organization's purpose, as put forward by Fidel Castro in his 1970 Havana Declaration, is to ensure "the national independence, sovereignty, territorial integrity and security of non-aligned countries" against issues such as foreign aggression, interference, imperialism, hegemony and more.
Edited translation from Al-Masry Al-Youm