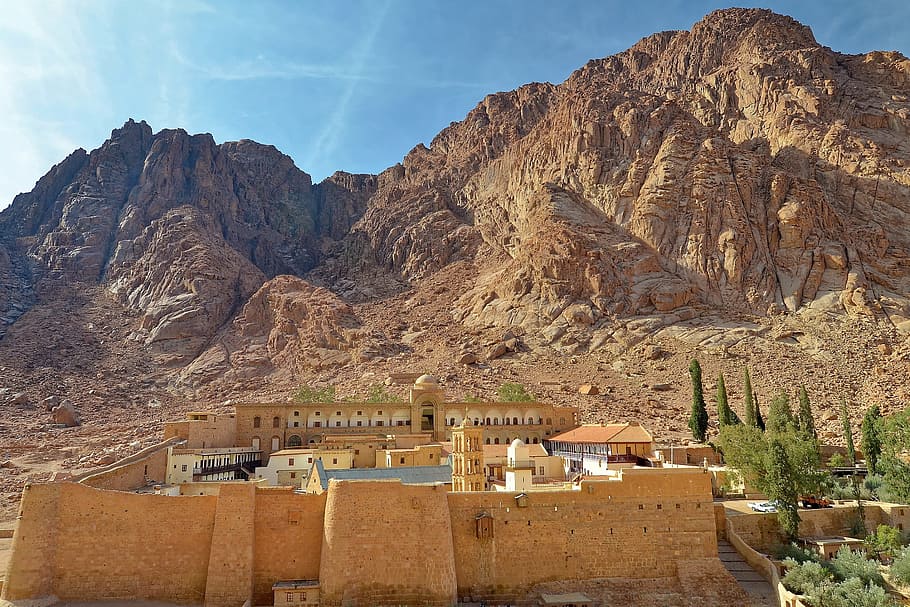 Prime Minister Mostafa Madbouly on Thursday inspected progress done on "The Great Transfiguration" project, which aims to develop the tourist area in St. Catherine and transform it into a global tourist destination.
The St. Catherine Area is registered on the UNESCO World Heritage List due to its unique historical, religious and environmental landmarks.

The project includes establishing a mountain resort, which Madbouly inspected along with Housing Minister Assem al-Gazzar, who explained that the resort will include four villas, 17 chalets, and a reception building.
The project will establish a commercial area that includes 16 bazaars, which will support the city economically and provide a service outlet for visitors. A social club is planned on an area of 1,600 square meters will also provide sports and entertainment services to the people of the city.
Gazzar said that the project will exploit the distinctive plateau overlooking the entire city and Wadi al-Arbaeen to establish an international health project, benefiting from the reputation St. Catherine boasts for its natural herbal treatments.
An integrated mountain hotel, which includes 150 diverse rooms and suites featuring multiple views of St. Catherine's Monastery, the transfiguration plateau, and Wadi al-Raha, is also planned according to the head of the Central Agency for Reconstruction Mahmoud Nassar.

Scenic and eco-friendly
The hotel will also overlook a rear mountain garden with rare rock formations, he added, pointing out that project aims to take advantage of the large hollow in the mountain at Wadi al-Raha.
An eco-lodge which consists of seven buildings, with a total of 192 eco-hotel rooms, various services, and a central reception building will be constructed in the Wadi al-Raha area.
In addition, a desert park adjacent to the foot of the mountain will connect the new eco-lodge to the mountain hotel, and create a walkway to mimic the historical path the Prophet Moses took through Wadi al-Raha to the Mount of Transfiguration.
Seventy chalets will be developed in a currently existing eco-lodge, Nassar explained.
He added that the project is being designed so that each number of new rooms forms integrated groups that include a back garden to enter the rooms, which scale with the topography of the valley.
Each group will have its own view of the monastery and the transfiguration plateau without conflict the others, he assured.

The development also includes the Wadi al-Deir area, one of the most important areas of St. Catherine. An area sacred to the Abrahamic faiths, the site is where the Monastery of St. Catherine was established.
The project will feature the implementation of a pedestrian path and a camel path, according to Nassar, better facilitating travel.