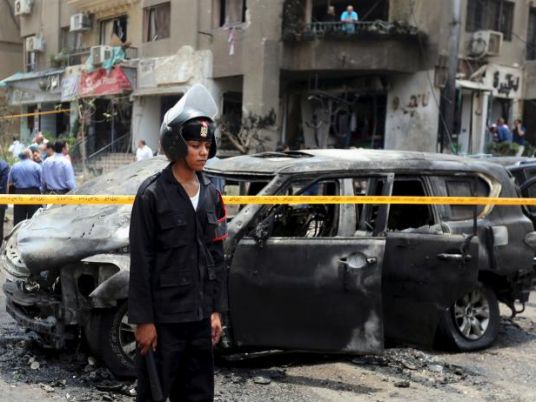 Cairo Criminal Court sentenced 28 defendants with the death penalty Saturday, charged for assassinating Egypt's former top prosecutor Hesham Barakat.
The court also sentenced 15 others in the case for lifetime imprisonment, eight defendants for 15 years in prison, another 15 defendants for 10 years in prison, and abatement for one defendant who died during the trial.
Of the 67 defendants, 15 were tried in absentia, while 52 defendants were held in custody during the trial.
The defendants were charged with premeditated murder, association with a terrorist organization and possession of weapons and explosives.
Barakat died due to injuries, after a car-bomb attack in Cairo on June 29, 2015. The car bomb struck his convoy as it was leaving his home in Cairo. Two civilians and two policemen were also wounded.
A little-known group, dubbed by its members as the "Giza Popular Resistance," posted a statement on Facebook claiming responsibility for the attack but the claim was taken down a few hours later.
Prior to the attack, Egyptian Islamic State affiliate 'Sinai Province' urged its followers to attack judges.
The Sinai Province was initially known as 'Ansar Beit al-Maqdis,' but changed its name in 2014, after it pledged allegiance to the Islamic State.
Sinai Province claimed responsibility for the killing of three judges in the North Sinai city of Arish in May 2015.
Barakat was appointed as chief prosecutor following the ouster of Islamist President Mohamed Morsi in 2013.
Edited Translation From Al-Masry Al-Youm