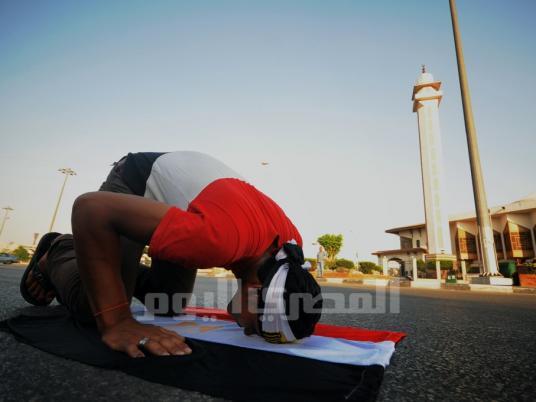 The Foreign Ministry denied as baseless the accusations made against Egypt's air force by the opposition in South Sudan on Sunday, which claimed Egyptian forces had dropped more than nine bombs on South Sudanese sites Saturday.
This was the first time either side had alleged Egyptian involvement in South Sudan's festering conflict, which pits President Salva Kiir's military against forces loyal to his former vice president, Riek Machar.
In remarks, Ahmed Abu Zeid, the ministry spokesperson, said Egypt does not intervene in the internal affairs of other countries.
The rebels accused Kiir's government of seeking to escalate the war.
In a statement, they said they repelled attacks by government forces in several places this week, including at three locations in Unity State, leaving "many dead bodies".
The statement said the rebels had captured nine soldiers after some exchanges of fire, and destroyed four military vehicles.
"Egyptian participation in the ongoing war in South Sudan is a clear indication to the people of South Sudan … that the Juba regime is provoking the region and tilting South Sudan for a regional war," the statement added.
Meanwhile, South Sudan presidential spokesperson Ateny Wek Ateny supported Egypt's stance, saying no attacks were launched by Egypt against his country. He described such claims as "nonsense".
"Those small packets of rebels are … operating inside our population and we cannot bomb our own population," he said.
Moreover, the South Sudanese ambassador to Cairo Anthony Kon said the allegations levelled by rebels in South Sudan against Egypt over bombing some sites are a kind of "political bankruptcy" to get Egypt involved in an issue that it is far from getting involved in.
Speaking to Al-Masry Al-Youm, Kon said this is an attempt to draw attention away from the defeats the rebels are facing, in order to seek sympathy from other countries.
On Saturday, South Sudan News Agency reported that the opposition has doubts over recent agreements between Cairo and Juba, which was described by the "Sudan People's Liberation Army In Opposition" as "coordinated lies".
War erupted in South Sudan in December 2013 after a political disagreement between Kiir and Machar exploded into military confrontation.
Under a peace deal, Machar returned to the capital Juba as vice president early last year. But tensions escalated between the two men, who hail from rival tribes, and fighting broke out again in Juba in July.
Intermittent clashes continue in several parts of the country. The conflict has often taken an ethnic hue, fuelling fears the world's youngest nation could be plunged into a genocide on the scale of Rwanda's in 1994.