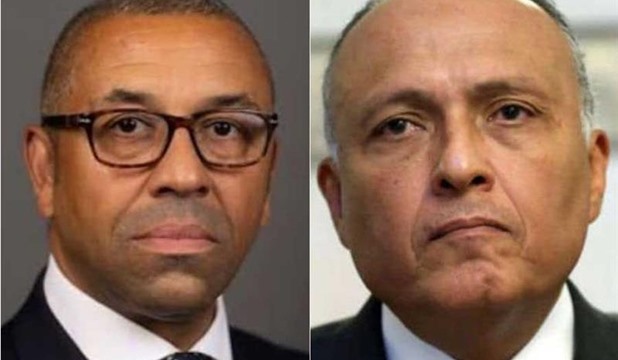 Minister of Foreign Affairs Sameh Shoukry affirmed that Egypt does not believe in the presence of any military solution to the crisis in Sudan in a phone call on Thursday with UK's Secretary of State for Foreign, Commonwealth and Development Affairs James Cleverly.
During the phone call, Shoukry and Cleverly agreed to cooperate to preserve Sudanese state institutions and to support international efforts to extend the truce and foster dialogue between belligerents in Sudan, the Egyptian Ministry of Foreign Affairs said in a statement.
Cleverly expressed his appreciation for Egypt's help in evacuating British citizens from Sudan, saying he looks forward to Egypt continuing this effort to evacuate the remaining number.
In addition to evacuating more than 5,300 of its own citizens from Sudan, Egypt has also taken in over 16,000 foreign nationals, including 14,000 Sudanese citizens and 2,000 nationals from 50 states and six international organisations, as of Thursday, the foreign ministry said.
The exodus from Sudan over the past week comes after clashes erupted in mid-April between the Sudanese Armed Forces and paramilitary Rapid Support Forces (RSF) that have killed more than 400 people and injured thousands others.
The conflicting parties agreed Thursday night to extend the ceasefire for another three days, though heavy clashes continued to rock the capital, Khartoum, on Friday morning.
Egypt's foreign ministry has called on its citizens in Sudan to head to the Egyptian Consulate General in Port Sudan, Port Sudan New International Airport, Dongola Airport in north Sudan, or the Arqeen or Qustul border crossings.
In a statement Friday, the ministry said that its consular sector's operations room continues to receive phone calls from the citizens at home and abroad around the clock on the following numbers:
01281943533 – 01283176900 – 01281943599 – 01283176913 – 01283176857 – 01283176881 – 01283176903 – 01283176894 – 01281943990 – 01283176866.
Egypt, Sudan's northern neighbour, has been pushing for an end to hostilities in the country and has been calling for both conflicting sides to resort to negotiations to stop the bloodshed.
Shoukry has also stressed the need to refrain from any foreign interference in the Sudanese crisis in phone calls with his counterparts worldwide.
Ahram Online