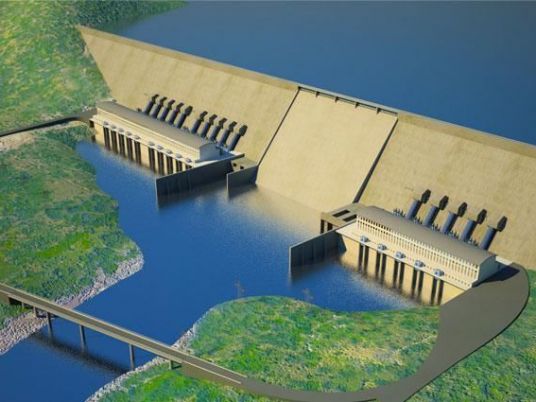 Egyptian Foreign Minister Sameh Shoukry met his newly appointed Ethiopian counterpart Workneh Gebeyehu in Addis Ababa in their first meeting since Gebeyehu took office, succeeding former Ethiopian Foreign Minister Tedros Adhanom.
Shoukry and Gebeyehu discussed the course of bilateral relations between Egypt and Ethiopia, and coordination between them on various African issues; the pair also explored the possibility of joint tripartite negotiations over the Renaissance Dam, by including cooperation and coordination with Sudan.
In 2011, Ethiopia started construction on the Renaissance Dam over the Blue Nile River, one of the major sources of the water that later forms the River Nile downstream.
The dam is expected to be ready by 2017. Ethiopians see as is a great national project and a means of overcoming poverty.
Egypt fears the dam will affect its historic Nile water share of 55 billion square meters, which it has had access to since a 1959 agreement with Sudan. Ethiopia, meanwhile, has frequently reassured Cairo that its water share will not be affected.
Shoukry affirmed Egypt's full commitment to support and strengthen the existing cooperative path between the two countries, while expressing interest in hosting the meetings of the joint higher committee between the two countries as soon as possible.
For his part, Gebeyehu stressed the common interests and historical relations between the two countries, particularly through the River Nile, which forms a link between them eternally; and said that it is in the interest of both countries to maintain this positive relationship.
He pointed to his country's aspiration to coordinate positions with Egypt in the UN Security Council and to work together for defending African interests.
Gebeyehu said he is interested in the implementation of the bilateral agreements signed between Cairo and Addis Ababa, reiterating his eagerness to work closely with Shoukry on strengthening cooperation and relations.
He added that messages exchanged between the two countries in the era of President Abdel Fattah al-Sisi created a very positive spirit and strong political will to make a qualitative leap in relations between the two countries, which will constitute a priority for Ethiopia over the coming period.
Gebeyehu stressed his country's commitment to the path of the trilateral negotiations over the Renaissance Dam, and said he looks forward to visit Egypt.
Edited translation from Al-Masry Al-Youm