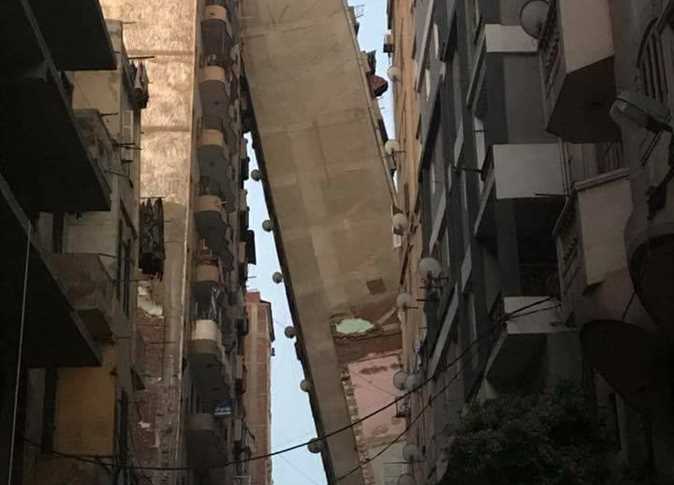 The Egyptian authorities evacuated a 13-floor building in eastern Alexandria in the early hours of Wednesday morning after it toppled over to lean on the building opposite.
Civil protection personnel went to the scene and found the newly-constructed building in Azarita. They immediately cut natural gas and electricity to the building and evacuated the tenants.
The authorities cordoned off the area around the collapsing building as a precautionary procedure in the case that it collapses further.
Alexandria Governor Mohamed Sultan said Thursday that all buildings adjacent to the collapsing building have been evacuated. The Alexandria tramway network in this area has been halted to prevent vibrations that may cause the building to disintegrate.
Sultan said in press statement that all necessary measures have been taken to provide emergency housing for the evacuees; there is coordination with the Social Solidarity Ministry to fulfill all their needs.
He explained that investigations have begun to find the cause of the collapse, stressing that all perpetrators and those responsible for the incident will be held accountable and referred to trial promptly.
Sultan said he immediately formed a committee comprised of representatives from the Engineering School, the Armed Forces and the Arab Contractors Company to intervene immediately and discuss the appropriate solution to demolish the building.
A security source who spoke on condition of anonymity to al-Masry al-Youm said the building was built in 2002 and a removal order was issued for it in 2004. However, the tenants opted to live in it at their personal risk.
Eng. Ali Morsi, head of the Central District in Alexandria, said the demolition of another 3-floor building, adjacent to the leaning building, led to the collapse of its the foundations.
Edited translation from Al-Masry Al-Youm