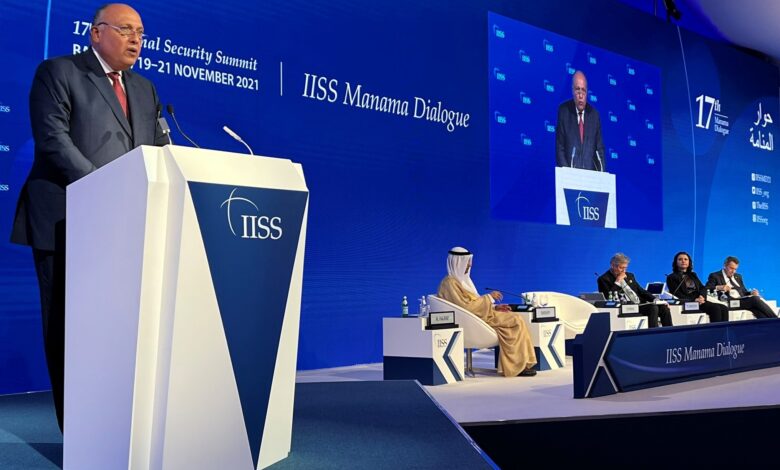 Egyptian Foreign Minister Sameh Shoukry headed to the Bahraini capital, Manama, on Saturday, to participate in the 17th edition of the regional security summit Manama Dialogue, which is organized by the Bahraini Ministry of Foreign Affairs in cooperation with the International Institute for Strategic Studies (IISS).
Shoukry will also meet with a number of ministers and senior officials in order to continue discussions on the most pressing regional issues and exchange views on the various challenges facing the region and ways to develop mechanisms to respond to those challenges.
A large number of foreign ministers and leaders of regional and international organizations will participate in the summit from November 19 to 21. A statement by the Egyptian Foreign Ministry said that Shoukry will participate as a keynote speaker in the session "Changing Multilateralism and Regional Security."
The speech of the Egyptian Foreign Minister deals with the multilateral frameworks and their development and the role they played in dealing with the challenges witnessed by the regional and international environment during the past decades. The importance of developing and modernizing the international and regional multilateral frameworks to keep pace with the nature and size of the current and future challenges will be a prominent feature.
💬 Sameh Shoukry @MfaEgypt argues the African continent is suffering from unfair representation at the UN.

#IISSMD21 pic.twitter.com/YVXiEgtcnJ

— IISS News (@IISS_org) November 20, 2021
There will be a keynote speech on Friday 19 November, four plenary sessions on Saturday 20 November and three plenary sessions on Sunday 21 November. These sessions will be recorded for future reference. All speakers will attend in person.
A virtual platform will be available for delegates who cannot travel to Bahrain, allowing them to view the plenary sessions and to pose written questions to panelists.  Delegates attending in person will also be able to access the virtual platform.