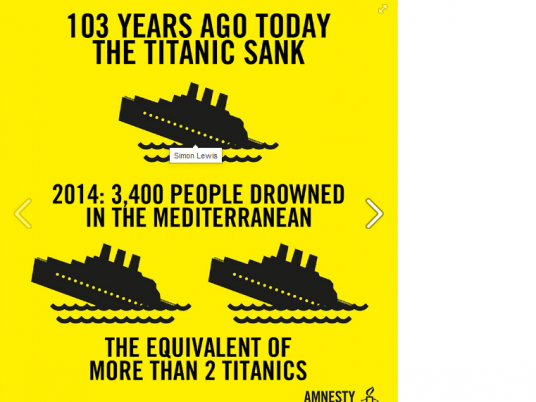 Egypt will host an international conference next week in the tourist resort of Sharm el-Sheikh on solutions regarding the illegal immigration phenomenon, which holds many challenges for the international community.
Several European and African countries, as well as international organizations, will take part in the conference held in light of the increasing number of victims who drown while immigrating illegally every year.
Deputy Foreign Minister Hesham Badr said on Monday that the conference will be held on April 23-24. Among the countries that will be attending are Ethiopia, Sudan, Eritrea, South Sudan, the UK, France, Italy, Germany and Malta. Commissioners from the European Union and the African Union, the United Nations, the UN High Commissioner for Refugees (UNHCR), the International Organization for Migration and the United Nations Office on Drugs and Crime will also be present.
The conference, according to Badr, comes as a result of illegal immigration and human trafficking based on youth who seek jobs abroad. He stressed the necessity to find creative solutions through the exchange of information, as well as best practices, regarding issues of immigration and related crimes.
During the conference, Egypt will focus on assisting countries from the African horn to achieve sustainable development and the Millennium Development Goals to limit the two phenomenons. Badr also referred to development projects that eradicate poverty and provide jobs.
The deputy foreign minister also revealed that Egypt will offer several development projects on the national and regional levels that are currently being discussed by donors ahead of carrying them out.
Approximately 700 migrants were feared dead on Sunday after their boat capsized in the Mediterranean. The 20 meter-long vessel sank 70 miles from the Libyan coast, south of the southern Italian island of Lampedusa, when a large merchant ship approached it. The victims were trying to reach Europe.
If confirmed dead, the total death toll will reach 1,500 victims this year, according to Reuters.
Edited translation from MENA