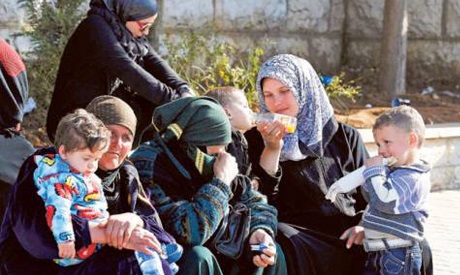 The Egyptian Ministry of Foreign Affairs said on Saturday that Egypt hosts six million immigrants and refugees. In a statement on the occasion of the International Migrants Day, the Ministry of Foreign Affairs said.
"Egypt and the world celebrates International Migrants Day, and Egypt has been keen to keep its doors open to migrants and refugees who left their homes and families to search for a better life."
It added that Egypt is proud of hosting 6 million people, between immigrants and refugees, and is keen to provide them with a decent life, guaranteeing  their rights, and enhance their integration into Egyptian society by ensuring that they enjoy health, education and other basic services on an equal par with Egyptian citizens.
The Ministry of Foreign Affairs affirmed that Egypt has always regarded migration to be a positive phenomenon and an important means for achieving development in the countries of origin and destination, and contributes to the convergence of civilizations and cultures.
This then leads to the strengthening of tolerance and inclusivity of  cultural understanding and the acceptance of the other.
The United Nations High Commissioner for Refugees had praised the Egyptian government's assurances of its commitment to expanding the range of services available to refugees and asylum seekers in the health sector and ensuring the continuation of opportunities available to them in the education sector.
It pointed out that Egypt embarked on implementing a digital transformation strategy that aims to ensure that the learning process is closely related to the challenges of the twenty-first century, for all children and youth residing in the country, and therefore, refugees included in the national system are also able to benefit from significant digital investments made in public schools, including access to the Digital Knowledge Bank content platform.
UNHCR confirmed that "in terms of health, the Egyptian government has been very generous in including refugees and asylum seekers in the national response plan to confront COVID-19, as well as in both health care and vaccination plans on an equal basis with Egyptians despite the limited number of vaccines available."
It explained that refugees and asylum seekers in Egypt are also included in national health initiatives such as the "100 Million Healthy Lives," which aims to eliminate hepatitis C in Egypt by 2023; national polio campaigns targeting children up to five years of age; and most recently, the government campaign for early detection of hearing loss is available in 1,346 health facilities across Egypt.
"As a host country, Egypt has been a pioneering model in the region in hosting refugees and asylum seekers in urban areas, providing health and education services to thousands of refugees and asylum seekers on an equal footing with Egyptians," said Pablo Mateo, UNHCR Representative to Egypt and the Arab League.