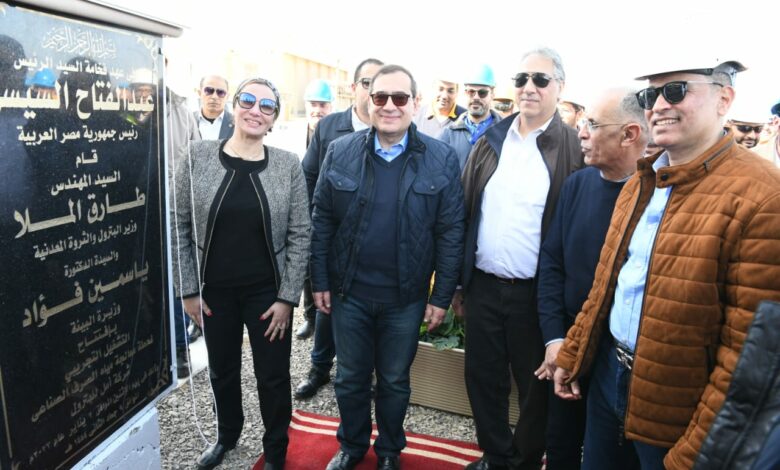 Egypt's Environment Minister Yasmine Fouad, and Minister of Petroleum and Mineral Resources, Tarek al-Molla, inaugurated the first smart Waste Water Treatment Plant (WWTP) in Egypt and the Middle East.
The plant aims to solve the waste water problem associated with drilling oil wells for the facilities that drain in the Gulf of Suez.
The experimental operation of the station also started, coming under the state's efforts to conserve resources and protect the environment.
Smart treatment plants, Fouad explained, are characterized by their ease of operation and maintenance, and designed to achieve maximum efficiency and to ensure the highest quality standards and to withstand climatic conditions, according to the location of the station.
She added that the plant does not need construction and infrastructure compared to the traditional treatment plants, since the station is inside containers and is installed on a concrete base only.
The minister said that the station was established through joint cooperation between the Petroleum Ministry, and as a culmination of the state's efforts to preserve the marine environment in the Gulf of Suez and the Red Sea.
Fouad added that the station came within the Environment Ministry's efforts to implement environmental sanitation plans for petroleum facilities in the Red Sea, which drain into the Gulf of Suez, and to ensure compliance with the Environment Law.
The station is designed using modern technology that relies on advanced triple treatment, which includes physical, chemical and biological treatment, in addition to water filtration units, through the German company ppu, and the Petrojet company affiliated to the petroleum sector.
The station, with a capacity of 1,000 cubic meters per day, is being implemented at a cost of more than eight million dollars.