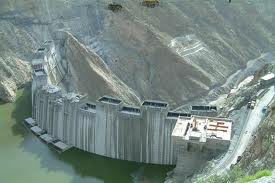 Egypt is not opposed to the construction of the Renaissance Dam in Ethiopia, or to any other development project, as long as it does not impair Egypt's interests, the Minister of Irrigation and Water Resources Mohamed Bahaa Eddin said on Saturday.
"A tripartite committee involving Egypt, Sudan, and Ethiopia is studying the effects that building the [Renaissance] Dam would have," Bahaa Eddin added in a press statement Saturday, after President Mohamed Morsy and Ethiopian Prime Minister Hailemariam Desalegn met on the sidelines of the African Summit.
Bahaa Eddin refused to comment on Addis Ababa's insistence on continuing work on the dam despite the fact that the committee has not concluded its study.
"Talks broached the subject of the Renaissance Dam project and the Ethiopian prime minister emphasized his country's eagerness to prioritize Egypt's interests above their own," Bahaa Eddin said.
"The Renaissance [Dam] project is a regional project that benefits everyone, including Egypt and Sudan," Bahaa Eddin added. He stressed that the project would not harm the interests of either Egypt or Sudan.
Bahaa Eddin's statement drew the ire of journalists because it is well-known that Egypt opposes the construction of the Renaissance Dam, as it would diminish its share of water from the Nile River.
In order to generate electricity, in April 2011 Ethiopia launched the project to build the Millennium dam, or "Grand Ethiopian Renaissance Dam," on the Blue Nile, one of the tributaries of the Nile River. Cairo fears that the dam will reduce its share of Nile water, while Addis Ababa denies that the dam will have any such negative effect.
Discussing this issue is Morsy's top priority on his current visit to Ethiopia, presidential office spokesperson Ehab Fahmy said.
The president will discuss the water issue with Ethiopian officials and other African leaders participating in the African Summit, Fahmy told Egyptian state-run television from Addis Ababa on Saturday.
Egypt and Sudan signed an agreement in 1959 that provided the former with a share of 51 billion square meters of water per year, and the latter with a share of 18 billion square meters.
In April 2010, Ethiopia, Rwanda, Uganda, Kenya, and Tanzania signed a new agreement in Entebbe, Uganda, which redistributed shares of Nile water. Egypt and Sudan refused to sign the accord, declaring that it was non-binding. The deal was approved after Burundi signed the agreement in March 2011.
Edited translation from Al-Masry Al-Youm