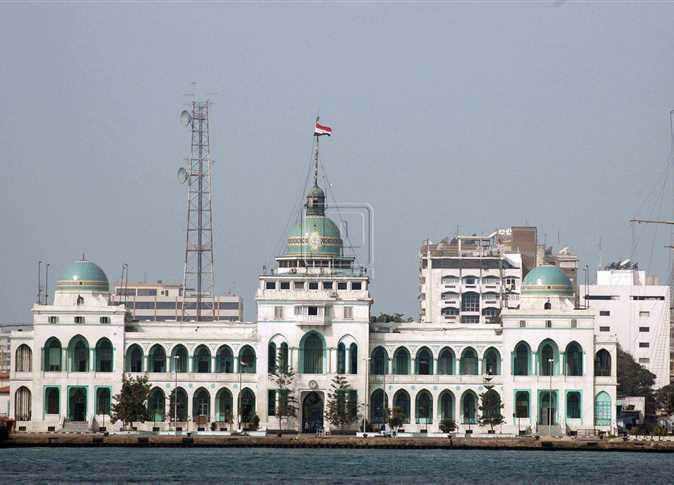 The Suez Canal Authority began evacuating its historical administrative building in Port Said, known also as the Suez Canal House, to began its restoration project of the building.
The director of the Port Said Archeological area, Tarek Ibrahim, said on Sunday that the renovation work is carried out by the Arab Contractors Company at a cost of LE60 million, done so under the supervision of the Port Said Archeological area since the building is registered as a monument.
Ibrahim added that he obtained the original engineering blueprint for the building from France, which will be used to guide the restoration work – which includes the treatment of a crack in the northern dome.
Designed by a French architect, the building's construction started in 1890 by the Edmond Coignet concrete blocks company.
Located on an area of 2,230 meters on the west bank of the canal, the Suez Canal House is surrounded by canal waters from the north, south and east. It consists of a three-story main building with a basement, topped by three domes covered in faience.
According to Ibrahim, the building had an attached rest house used for important visitors and in which Khedive Abbas Helmy II and the King of England George V visited.
It was also used by the commander of the British forces participating in the tripartite aggression against Port Said in 1956.
The building was built during the rule of Khedive Abbas Helmy II in 1895 directly on the Suez Canal in the shape of an Islamic style palace, evident by the three green domes that rise above the building and the interior decoration of the ceilings, walls, the lanterns as well as decorations of the windows from the inside.
Governor of the Port Said Major General Adel al-Ghadban said in August 2017 that there are plans to turn the historical administrative building into a museum for the history of the Suez Canal.
Edited Translation from Al-Masry Al-Youm