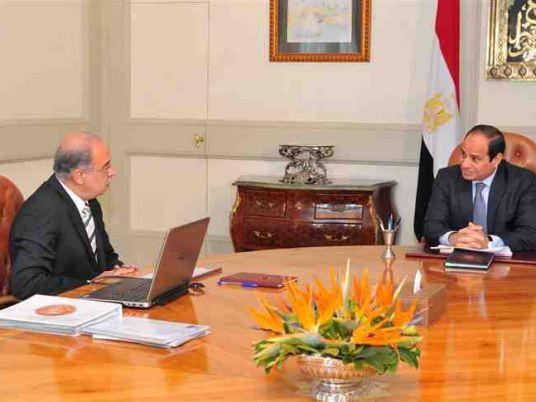 Egypt's government began elaborating the details for the third year of the economic reform program, after it received the first tranche of the IMF loan worth US$2.75 billion, now deposited with the Central Bank of Egypt.
An official government source told Al-Masry Al-Youm that CBE is scheduled to deliver the loan to the Finance Ministry after converting it from US dollars to Egyptian pounds. The money will be used to reduce the budget deficit, which stands at LE320 billion for the current fiscal year.
The source pointed out that the economic program will include continued subsidy cuts, until fuel and electricity prices reach global rates.
Investors and exporters predict high export rates of up to $27 billion over the coming year, after the approval of the IMF loan.
Meanwhile, President Abdel Fattah al-Sisi on Saturday held a high-level meeting with the Prime Minister, the Governor of the CBE and the ministers of defense, foreign affairs, interior, finance and supply; present also were the heads of the General Intelligence Service and the Administrative Control Authority.
The president commended the Egyptian people's sense of responsibility and their awareness of the importance of addressing, at this stage, the prevalent economic challenges in an effective and sustainable way.
He expressed his appreciation that Egyptians are choosing the path of development and progress, and avoiding the calls for vandalism.
President Sisi ordered a continued and intensive supervision of markets to guarantee stability in the prices of basic food commodities and their availability. He also stressed the importance of controlling the prices of the means of transportation.
Egypt won IMF approval on Friday for a three-year, US$12 billion bailout loan aimed at reviving a struggling economy, bringing down public debt and controlling inflation, while still seeking to protect the poor.
The IMF said its executive board's approval immediately disbursed the initial loan tranche of US$2.75 billion to Egypt's central bank. The remainder will be phased in over the next three years, subject to five reviews on the required economic reforms.